NYU Shanghai's First-Ever A Cappella Groups Take the Stage
Apr 30 2021
A capella singing groups are a tradition on many college campuses around the world, especially in the United States. This year, NYU Shanghai has joined that tradition with new a cappella groups and new opportunities for students to sing in close harmony with their classmates. 
Though the COVID-19 pandemic prevented in-person classes last spring at NYU Shanghai, Katherine Girvin, then a new Clinical Assistant Professor of Arts hired to take over the university's choral music program, was determined to connect her far-flung students virtually - and keep them singing.  
She brought together NYU Shanghai students with students from NYU Steinhardt's Chamber Bravura and high schoolers from her hometown of San Diego, California to create an a cappella virtual ensemble of the song "Flashlight" by Jessie J.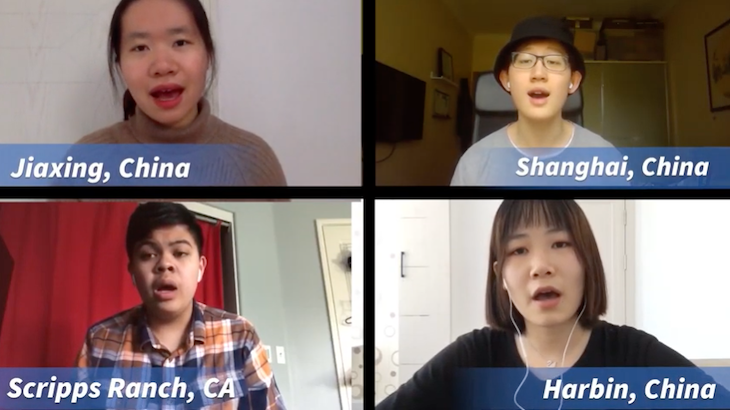 "I wanted to bring students in China and America together and what better way than in song? There is so much fear and concern globally, and I was hoping to instill a sense of hope and inspiration amongst our students instead," said Girvin. 
The cross-continent collaboration proved to be NYU Shanghai's a cappella catalyst. Last semester, Girvin launched NYU Shanghai's first-ever large a cappella group alongside the Show Choir and Chorale. And this semester, with on-campus mask-wearing now optional, Girvin retired the Show Choir and built a smaller a cappella group in its stead. 
Since then, she's been carving out a myriad of opportunities for both Chorale and a cappella students, connecting them with major players in the industry and landing off-campus singing opportunities.
Two separate end-of-semester performances are on deck for the new a capella groups. On May 3, both the small and large a cappella groups will perform separately and together. One of the evening's highlights will be a performance of an arrangement of "Mojito" by famed Taiwanese singer-songwriter Jay Chou. A second concert on May 10 will include performances from NYU Shanghai's orchestra, jazz band, and piano students as well as all three choirs—70 Chorale students will sing a five-minute medley of songs from Hamilton.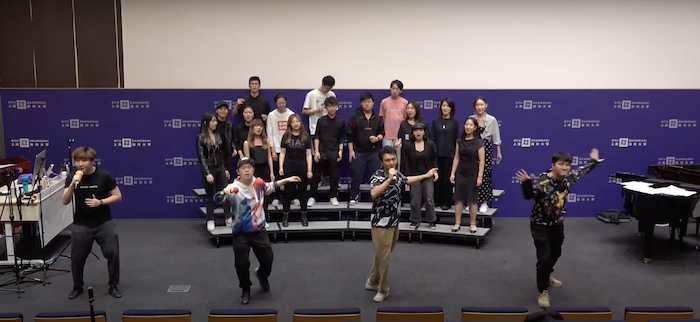 Watch NYU Shanghai's a cappella group rehearse "Mojito" by artist Jay Chou here.
Looking to find Hamilton sheet music for NYU Shanghai's accompanying jazz band, Girvin reached out to the arranger, Lisa DeSpain, a renowned composer in the musical theater and opera world.
"I reached out to her, wondering if she had instrumentation [for Hamilton] because we needed drums, bass and guitar, and she provided that last weekend," Girvin said. "And then she said, 'Hey, do your kids want to Zoom?'" 
So after rehearsal on April 26, Girvin surprised the chorale with a Zoom call with DeSpain, who told her story of making multiple Hamilton medleys and listened to the students rehearse her work in the auditorium. Before signing off to start her morning in New York, she left them with a few words of encouragement: "Just remember, this is about joy. So sing and enjoy. Enjoy your concert and bring joy to the audience. That's what you're doing. So, just keep at it."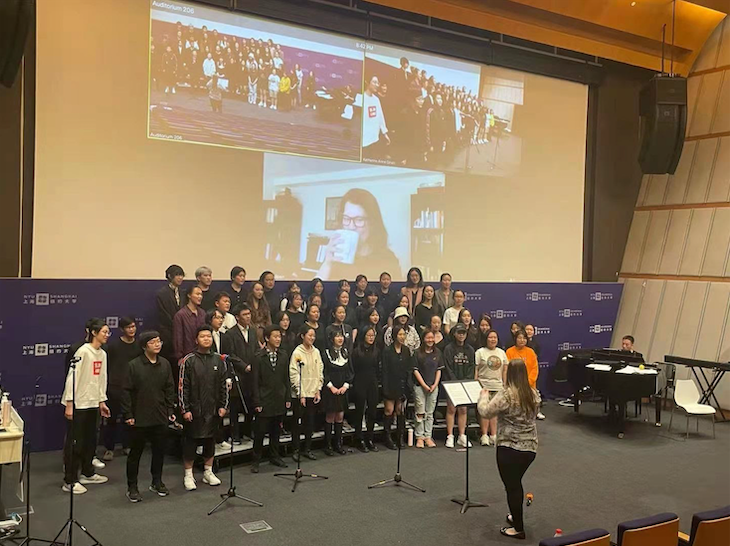 NYU Shanghai's chorale rehearses one of DeSpain's medleys of Hamilton music while she sits back on Zoom listening to them over a cup of coffee.
At the end of May, the small a cappella group will be performing at the Disney store near the Pearl Tower. The songs they'll be singing were arranged by Deke Sharon, the 'father of contemporary a cappella,' who wrote Pitch Perfect and produced The Sing-Off.
Sharon also personalized a video message directed to NYU Shanghai's a cappella group:
"Hello NYU Shanghai chamber singers…I'm excited to hear that you guys are going to be performing for Shanghai Disney…[and] I'm excited for the potential of working with you guys in person in the future, getting on a plane once I get vaccinated and making some music together!"
NYU Shanghai's singing groups will be performing at Shanghai Disney twice a month over the summer and across various Disney store locations in Shanghai.
Read NYU Shanghai Students and Alumni Unite in a Virtual Choir