NYU Shanghai's Class of 2026 Moves In
Sep 9 2022
Members of NYU Shanghai's Class of 2026 were greeted with sunshine and a bit of rain for this fall semester's Move-In Day. Their laughter and excitement echoed throughout the Jinqiao Residence Halls as Orientation Ambassadors, staff volunteers, and even a campus cat welcomed them to their new homes. After waving goodbye to their families, they set down their suitcases, started bonding with roommates and decorating their spaces, and ventured out to explore their new city. Below are some of the memories we captured in the making.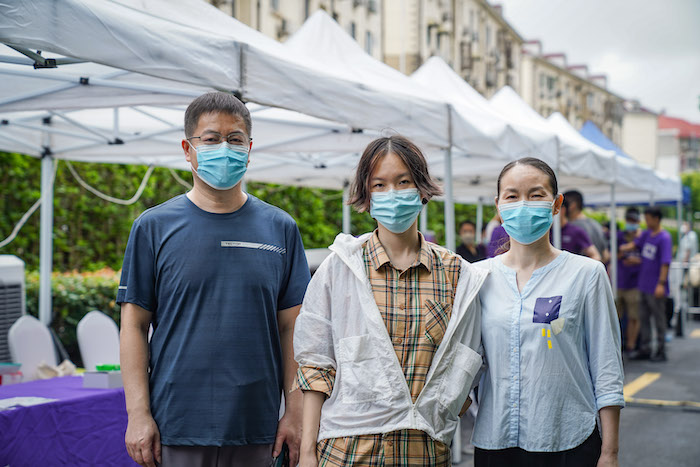 Kang Kewei, from Liaocheng, Shandong Province, was the first student on the scene at Jinqiao Residence Hall, ready to move in. She and her parents hopped on an overnight train and made it to Shanghai by 4am. Kewei looks forward to finally meeting her two roommates who hail from Shanghai and America–the trio have been getting to know each other in their group chat. She's also excited to dive into studying business and finance as well as the humanities.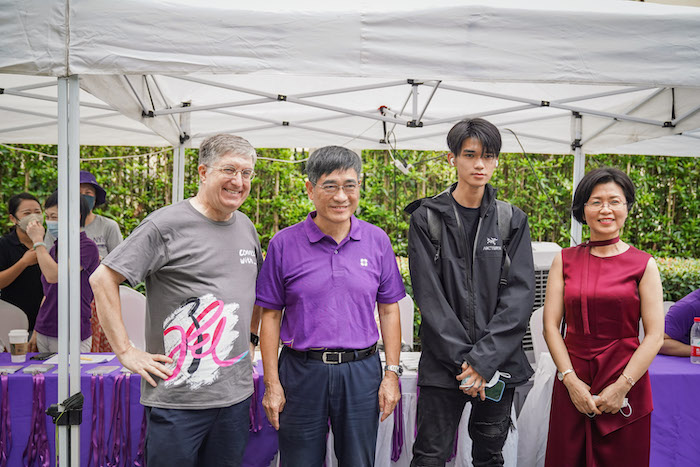 Wang Muxing from Chongqing, learned about NYU Shanghai by scrolling through videos on Douyin, China's version of TikTok, and dreaming about what college life might be like here. Now Muxing, who was welcomed in person by NYU Shanghai's Chancellor Tong and Vice Chancellor Lehman, is a step away from starting his first semester on campus, where he can pursue his interest in psychology.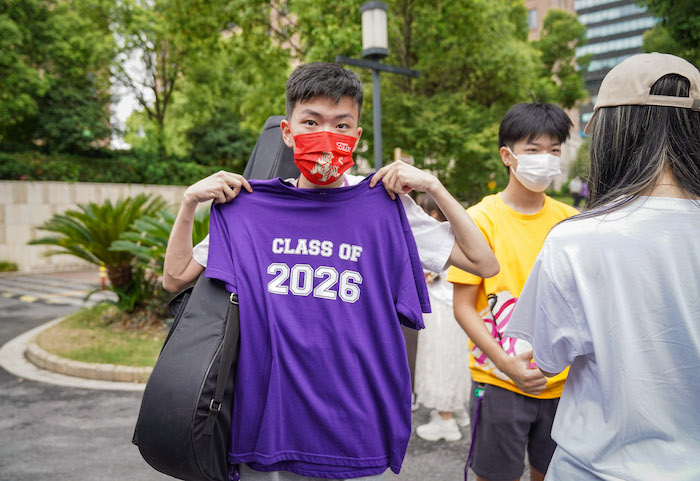 Liu Jinnuo picks up his new violet Class of 2026 T-shirt and says he's looking forward to experiencing NYU Shanghai's open and diverse atmosphere while studying Interactive Media Arts and sharing his love for music (he's a guitarist and drummer) with new friends.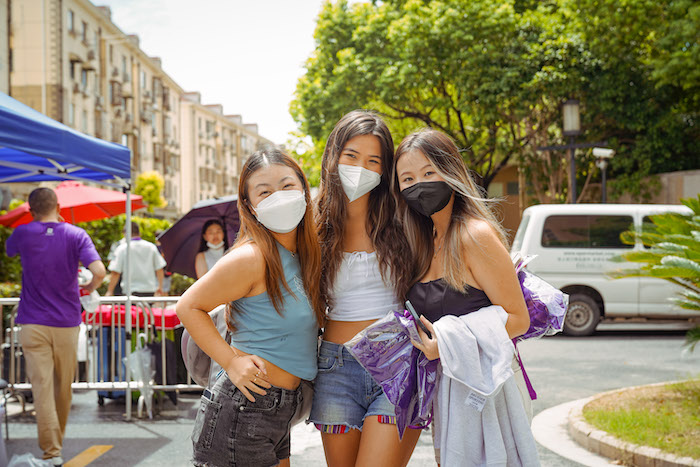 Californians Victoria Chen, Catherine Hui Chen Leininger, and Victoria Cheng pose together after finishing their quarantine period and checking into the residence halls. The three first met on their flight to Shanghai.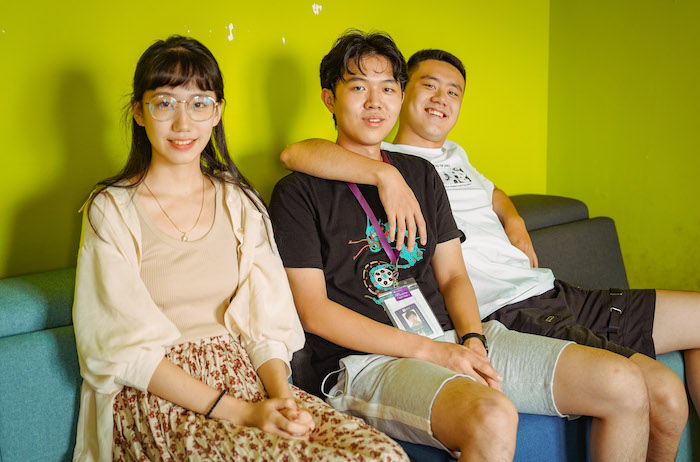 Friends since their junior high school days in Beijing, Liu Yuhan, Guo Yiheng, and Wang Yongkun only found out they were all going to NYU Shanghai when they discovered each other's parents in a WeChat group for the new class. Smaller class sizes, studying in other countries, and having the chance to explore different academic subjects before pinning down a major were just a few factors they say played into their decision to choose the school. Now that they're here, Liu wants to join the badminton club and work on art projects, Guo wants to join TEDxNYU Shanghai and study business and finance, and Wang, who plays the erhu, a Chinese traditional instrument, is keen on joining the Qilin Chinese Ensemble.

Students received a warm, cuddly welcome from the neighborhood's resident feline friend.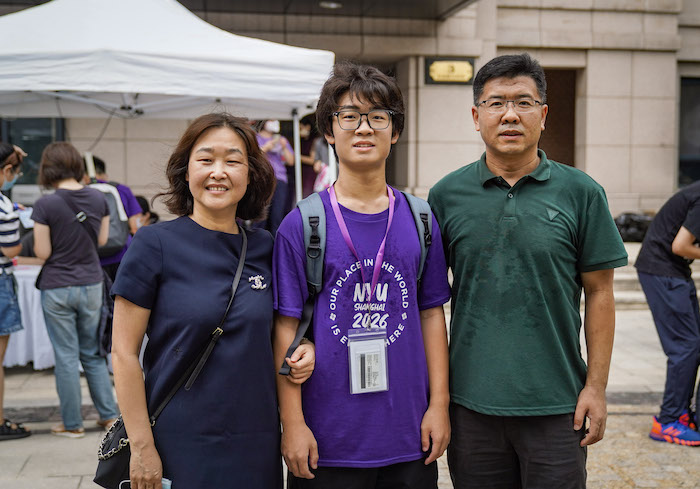 Jia Haotian from Tianjin, China, with his family after checking in. Haotian says he's looking forward to learning about the hometown lives of his roommates from Chongqing and Ghana and expanding his understanding of different cultures not only across countries but spanning China's many diverse regions.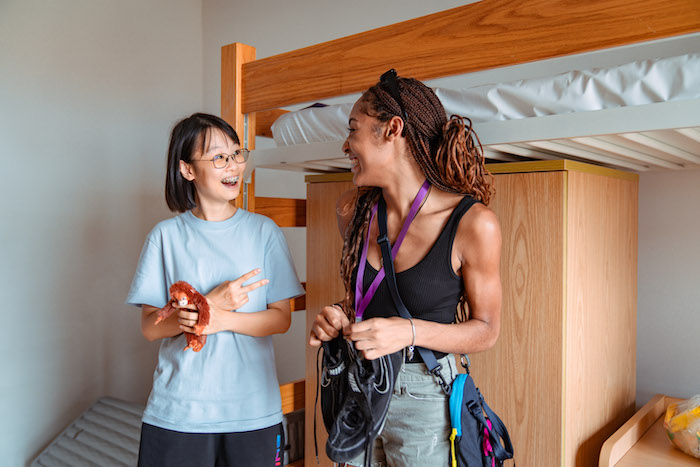 After a 15-hour flight to Shanghai and ten days in quarantine, Peyton Rae Washington from Seattle, Washington, USA, finally met her roommate Xue Yuxiang from Shanghai, and it turns out the two have a lot in common. Both love languages and sports–Yuxiang has been learning French since junior high school, Peyton is an avid wrestler, and both like skating. One of the first things they're excited to do together is head to the nearest IKEA and shop for dorm decorations.

NYU Shanghai's Orientation Ambassadors--upper-class students who trained extensively to advise first-year students--volunteered to help with the check-in process and give walking tours around the city.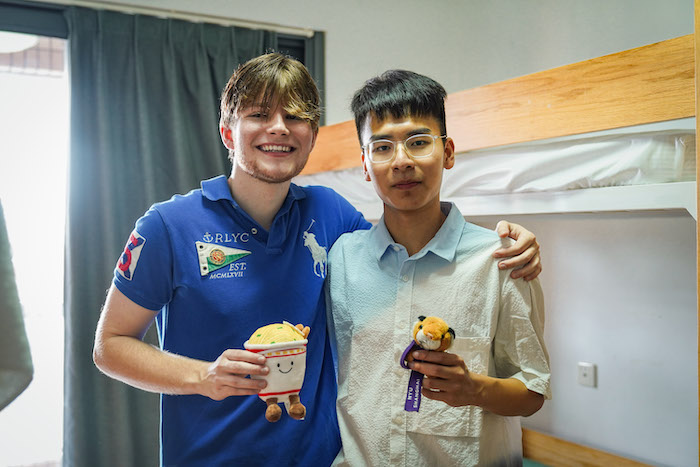 Roommates Britt Burney from Manhattan, New York and Qian Yunkai from Wuxi, Jiangsu Province became friends on WeChat and kept in touch daily before finally meeting in person. They've already made plans to play lots of table tennis and card games like Uno, practice languages together, and go explore the city–their first stop is a trip to take in the views from The Bund at night.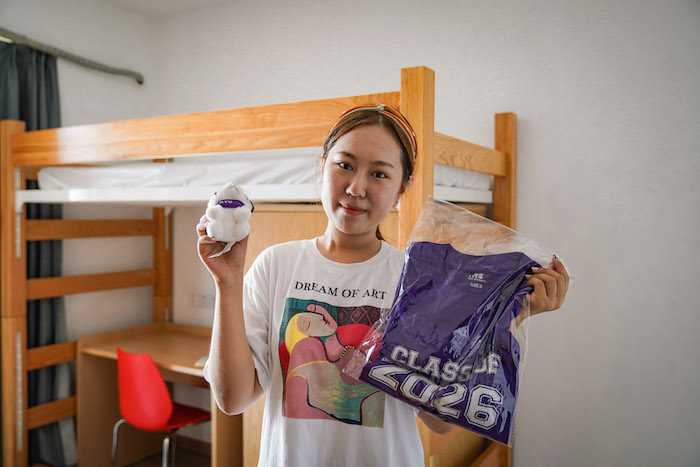 Zhang Zhimeng from Anshan, Liaoning, wants to play flute for the university orchestra, study Interactive Media Arts and economics, keep up her passion for drawing, and explore the city with her American roommate who will arrive in a few days. With all of her summer reading assignments completed, she even had time to visit some of Shanghai's famous scenic spots like The Bund, Nanjing Road, and Tian Zi Fang.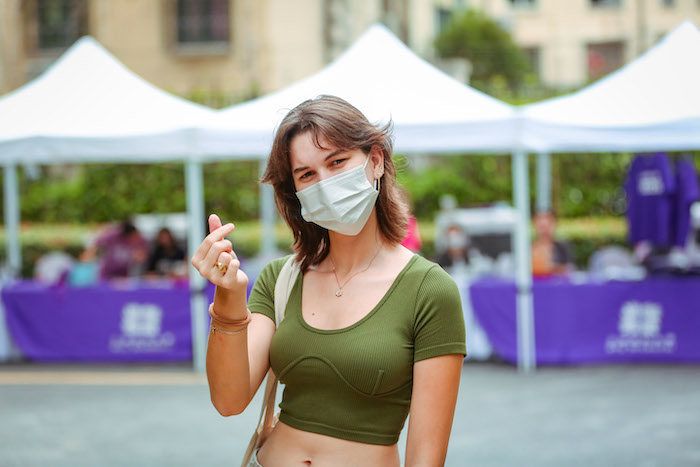 For Amira Aaliyah Jaques, the journey to NYU Shanghai meant arriving one week early after flying from Morocco to Switzerland to Abu Dhabi to Shanghai–on her flight over, she enjoyed getting to know some Shanghai locals. Amira already has her eye on joining NYU Shanghai's student government and Model United Nations Conference (MUNC), as well as sharing her passion for volleyball, video games, hiking, reading, and learning languages (she's fluent in English and French and speaks some Arabic, too) with new friends.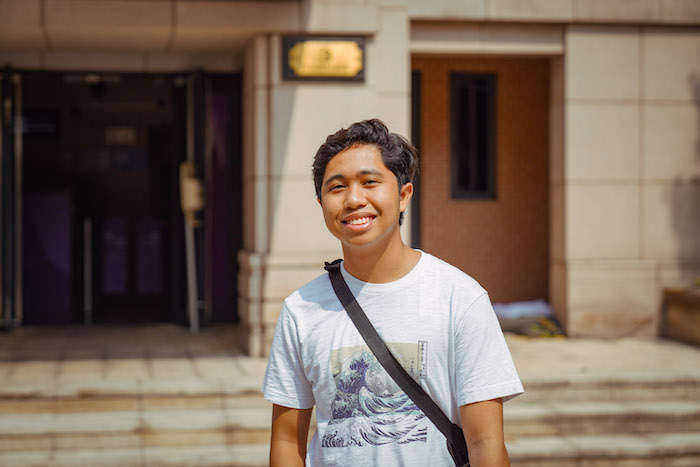 Hailing from The Philippines, Mathew Ponon is excited to see how life in Shanghai will inspire his passion for photography and video editing—he's already signed up for the Orientation Week city walking tours that explore Shanghai's famous Yu Garden and Wukang Road.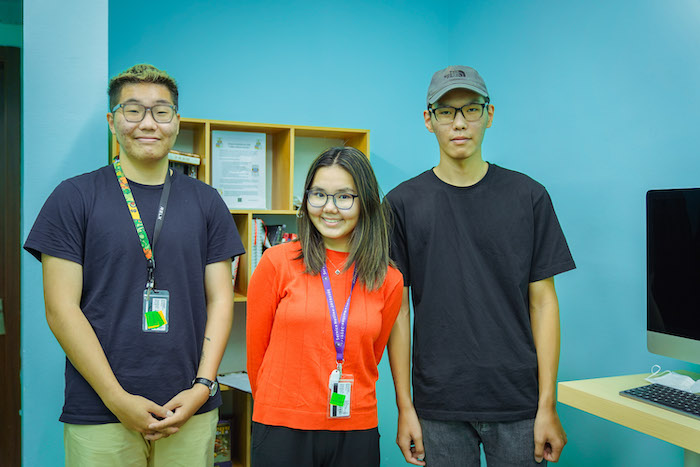 Mongolian students Tushig Bataa, Enkh-Otgon Enkhbayar, and Gankhulug Bayaraa (left to right) arrived a few days ahead of the move in and who have already started exploring the city on foot together daily for hours at a time. What they're excited for? Enkh-Otgon wants to join a math club and find friends to play chess with (she's competed internationally), Gankhulug would like to study IMA and take an on campus job at the IT front desk, and Tushig has decided to try out for the basketball team.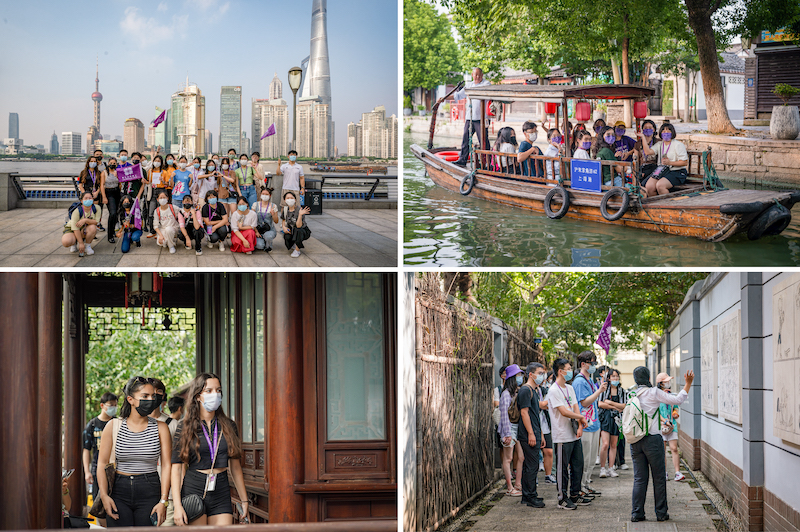 After settling into their new rooms, students joined their Orientation Ambassadors on a walking tour of some of the city's famous landmark spots. They explored Yu Garden, Wukang Road, the Bund, and Zhujiajiao water town, taking in a blend of historical architecture, local culture, and Shanghai's cosmopolitan vibe.