NYU Shanghai Marks Five Year Anniversary
Oct 16 2017
This week marks five years since Shanghai New York University was officially established, becoming the first Sino-American joint university in China and the third degree-granting campus in NYU's global network.
On this occasion, the Gazette spoke to faculty, students and administrators to capture their thoughts about the past momentous years. Also, leaders from the Shanghai Government and ECNU offered their best wishes to the school.
Deputy Mayor of Shanghai Chen Qun: "Congratulations NYU Shanghai, for your remarkable achievements over the past five years. My wish for the University is for it to receive even more support over the next five years and reach greater achievements."
2011.03.28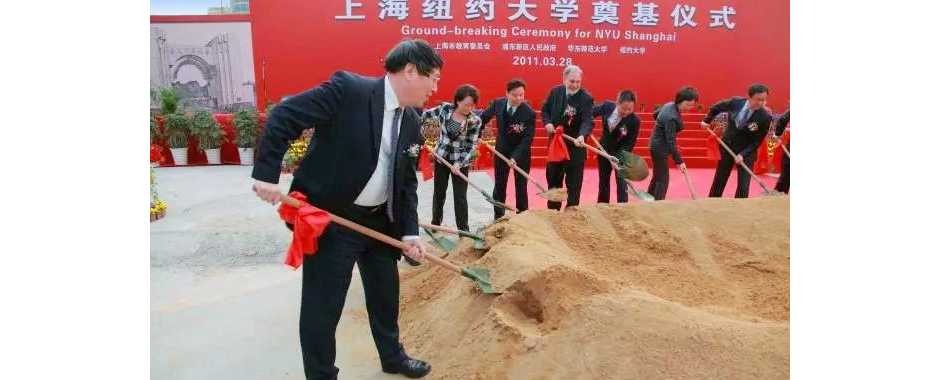 On March 28, 2011, NYU Shanghai held its groundbreaking ceremony in Lujiazui Financial area, setting in motion preparations for the new university.
Chancellor of NYU Shanghai Yu Lizhong:"In its first five years, NYU Shanghai has devoted itself to establishing world-class undergraduate education. The school has achieved remarkable success in attracting outstanding faculty and students as well as innovating our education model. NYU Shanghai is training students by the standards of the world's top universities, preparing them to be global citizens and leaders that will contribute to our society. This is why the inaugural class of NYU Shanghai has received numerous offers from leading graduate schools and enterprises.
Five years is a short time for a growing university, but I believe the growth of NYU Shanghai will not only stimulate reform in education, but also develop students' critical thinking capability. NYU Shanghai is especially bringing forward a number of outstanding students who know about China, who love China and who are willing to build connections between China and the rest of the world. "

2012.10.15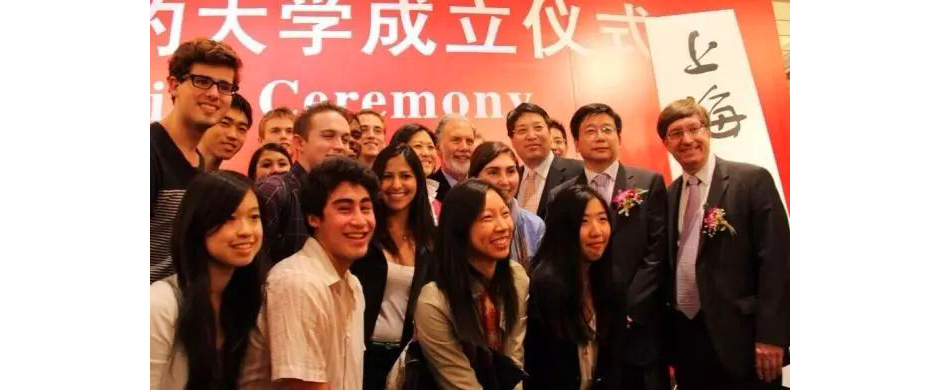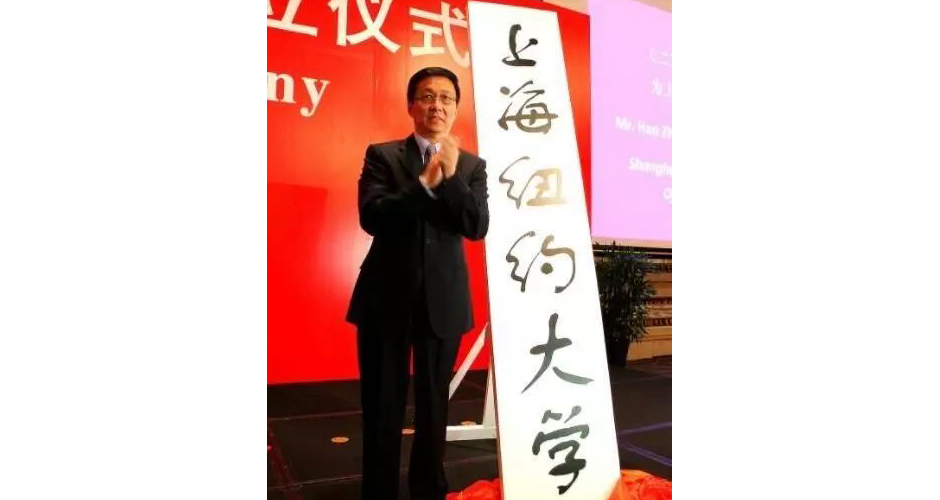 NYU Shanghai was jointly established by New York University and East China Normal University, on October 15, 2012.
Vice Chancellor of NYU Shanghai Jeffrey Lehman:  "The past five years have been a blur, as NYU Shanghai developed from a mere concept into a fully operating university. The courage and devotion of almost 2,000 students, faculty, and staff have created a living institution that embodies the values of creativity, cosmopolitanism, and excellence. Along the way, it has drawn heavily on the commitment of our four parents (NYU, ECNU, Shanghai, and Pudong) and also of individuals and organizations around the world who share a hopeful dream for our future.
Over the next five years, I expect the pace of development at NYU Shanghai to accelerate. As our faculty and student body continue to grow, they will have an ever greater impact on the interconnected worlds of research, teaching, and service to society. That will in turn attract even greater numbers of comparably talented people to our community. The future of this university is bright indeed."



2013.08.09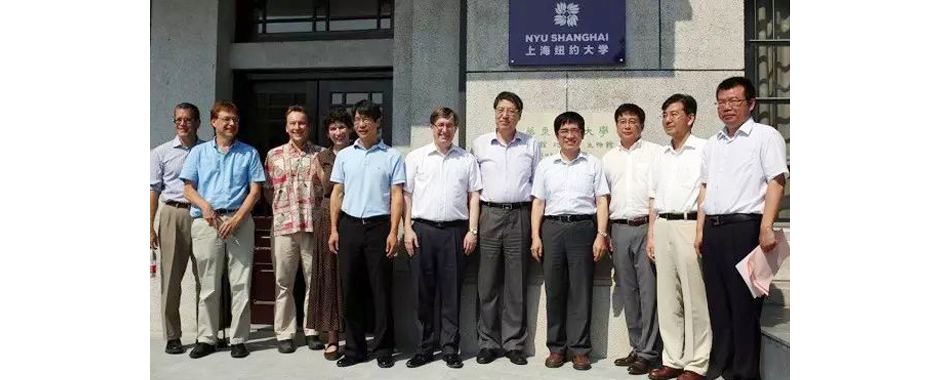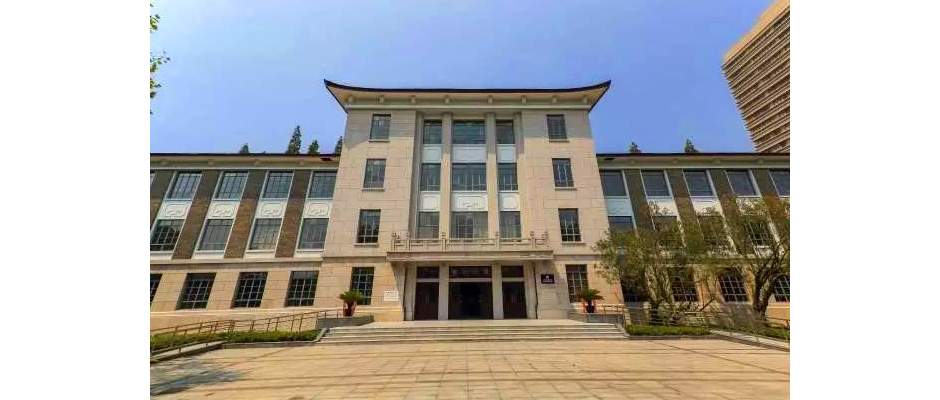 On August 9, 2013, the campus project completion and opening ceremony was held at ECNU, used by NYU Shanghai's inaugural class as transition campus.
CCP Secretary of East China Normal University Tong Shijun: "NYU Shanghai, as one of the most significant achievements of Sino-US higher education cooperation, was created to be a great platform for the development and innovation of higher education in a globalization world. While we celebrate the fifth anniversary of NYU Shanghai, we sincerely hope to enhance cooperation between our two universities by exploring a new model of  internationalization and localization of higher education in China. We will also continue to promote the growth of world-class universities and the development of global higher education. "
2013.08.12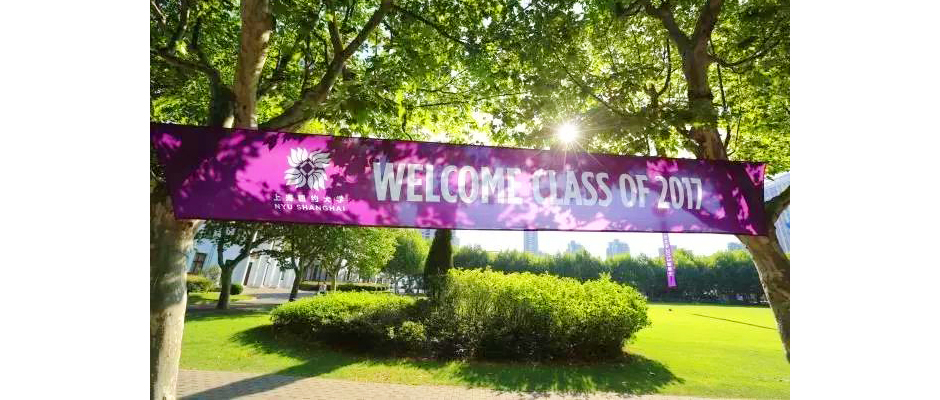 On August 12, 2013, the inaugural class held their convocation at ECNU's campus, where they spent their first year.

 
2016.08.20


On August 20, 2016, the Convocation for NYU Shanghai's Class of 2020 signaled the completion of its four classes.
Ben Tablada '20 :"One of the main reasons why I chose NYU Shanghai is because it was an empty canvas. The school is waiting for someone to start clubs, organizations, and traditions that can continue once I graduate and leave. To me, it's an opportunity to leave a lasting impression on an institution as prestigious as NYU Shanghai.
I can't even express how fast NYU Shanghai  has changed. With each new class, a plethora of fresh faces arrive and bring new organizations and events. The NYU Shanghai community, although small, continues to grow,  fueled by innovators and global citizens. In the year that I was here, several new programs and majors have become available for students and I can only imagine the progress that the next few years will bring. "
2017.05.28





On May 28th, NYU Shanghai held its very first Graduation ceremony at Shanghai's Oriental Arts Center. The pioneering Class of 2017 earned their NYU bachelor's degrees as well as their NYU Shanghai diplomas.
Associate Dean of Students Davie Pe: "Commencement was a great time to reconnect familiar faces. Many parents who dropped the students off in August, 2013 then came back to see their children walk across the stage after four years. It is with their trust and constant support of NYU Shanghai that allowed us to confidently progress and grow each year. They were in the background cheering and rooting for us during each milestone.
I was so impressed by the friendships between our students. Each of them has developed a deeper understanding and connection of the "other" that crossed cultural boundaries. They continue to be roommates, colleagues, graduate school classmates and life partners! Each activity, interaction, conflict and moment all contribute to establishing the history for the university. I hope students will continue the momentum and realize the special opportunity they have and  seize it to the fullest."
2017.08.26


On August 26th, 2017, the university held its fifth convocation ceremony to welcome its 345 newest members to the Class of 2021.
PCI Director Professor Adam Brandenburger: "Teaching at NYU Shanghai, I see our students taking a highly entrepreneurial approach to their own education. They have decided to attend a newly founded university pursuing an innovative model. They choose programs of study that include both courses on traditional subjects and courses on new and emerging areas. They are extremely active in participating in and organizing workshops and shows and all kinds of events beyond the classroom. Being such entrepreneurs in their education, our students will go on to be innovators in many areas of life beyond university.  It is very rewarding to teach and work with them."