NYU Shanghai Celebrates the Class of 2020 in a Virtual Commencement Ceremony
May 29 2020
NYU Shanghai honored the Class of 2020 in a first-ever virtual commencement ceremony on May 29. Thousands of viewers signed on to celebrate this year's 229 graduates from 24 countries and regions, while keynote speaker and Alibaba Group founder Jack Ma called upon students to find "a common path forward, a common path for cooperation" between China and the United States.
The NYU Shanghai Torch, which made a filmed progression throughout Shanghai, passing landmarks familiar to the senior class -- from the Bund to Tianzifang to the construction site of the new campus and back to the Jinqiao residence halls and the Academic Building on Century Avenue -- kicked off the celebration at 20:20 on Friday. The Class of 2020 and faculty representatives then "processed" virtually, as their photos flashed up on the screen, followed by Chancellor Yu Lizhong, Vice Chancellor Jeffrey Lehman, and Provost Joanna Waley-Cohen, who led the commencement live from the auditorium in the Academic Building.
Whether in pre-recorded or live speeches, the commencement speakers -- from Jack Ma to student representatives Isabel Adler '20 and Casey Pan Yunzhu '20 -- all referenced the global pandemic that had forced NYU Shanghai's commencement and commencements around the world to go online and noted that NYU Shanghai graduates, as graduates of an institution that emphasized cross-cultural understanding, had unique tools to meet the challenges of these uncertain times.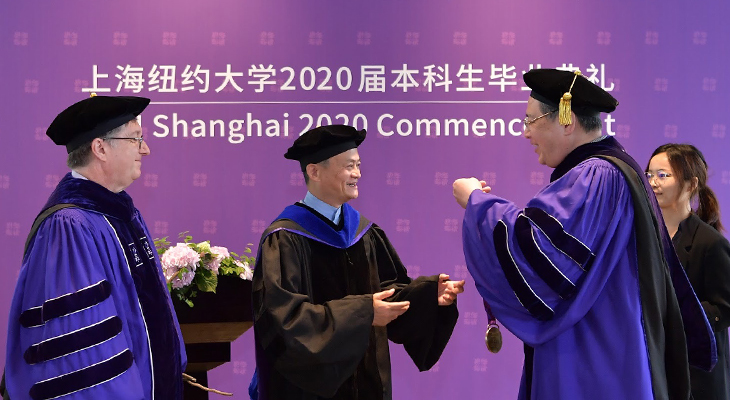 "At this moment in time to graduate, to look for a job, to enter society, you all may feel very unlucky," Ma said. "But worries are never useful. We should act instead of worry. Which direction will the world and our future follow? This is up to you. It will depend on the choices of young people. It will depend on young people's actions."
Watch Jack Ma's keynote speech on Youtube and Bilibili.
Recounting the story of how a NYU Shanghai student in the Czech Republic sent masks to a classmate in Wuhan in the earliest days of the COVID-19 crisis and how that Wuhan student then sent information from Chinese doctors back to the Czech student after the virus had reached Europe, Ma said he had faith that NYU Shanghai students had already chosen the path of action.
Chancellor Yu praised graduates for the courage with which they faced the unexpected crisis, demonstrating "the value and significance of constructing a university dedicated to multi-cultural integration, and to cultivating international, innovative talents with global vision and a sense of social responsibility."
Yu also announced that this Commencement would be his last before retiring next month. "With mixed feelings... I will 'graduate' together with you. I will officially retire from my post as Chancellor," he said. "From NYU Shanghai's conception, establishment to development, my heart has always been tied to this unique university and tied to the hearts of all of you."
In his remarks, Yu introduced his successor, East China Normal University Professor of Philosophy Tong Shijun, who also attended the Commencement ceremonies.
Noting that the world had changed drastically since the Class of 2020 arrived in Shanghai in the summer of 2016, with both an infectious virus and infectious xenophobia threatening global stability, Vice Chancellor Jeff Lehman exhorted graduates to be the antidote: "Please be the people that we have come to know and love, people who create and innovate in respectful, productive partnership with others who grew up in different cultures, in different nations.
"You have the knowledge, skills, and virtues that are needed to sustain our planet, to nurture natural and human environments where every child and every adult can enjoy a fair opportunity to flourish."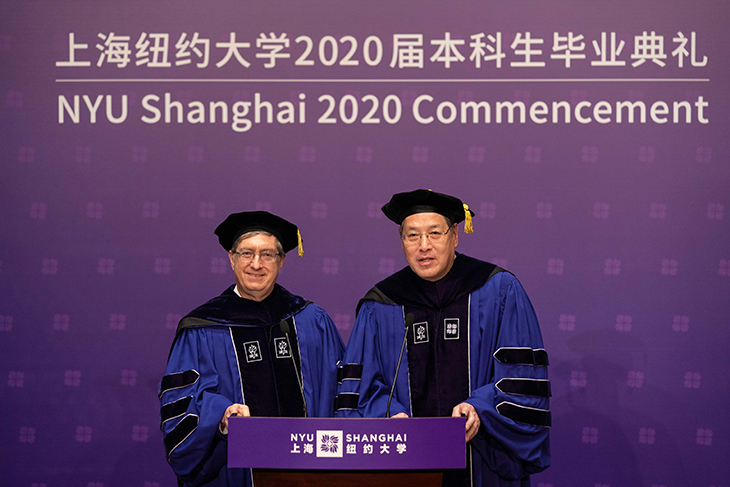 Yu and Lehman also shared that they had traveled to Hangzhou last week to present Ma with this year's Chancellor's Medal of Honor. In his remarks, Ma reminded students of the importance of institutions such as NYU Shanghai, and the leadership role its graduates might provide the world. "Each of us sitting here … has benefited immensely from China-US cooperation and globalization," he said.
"Looking ahead, for China, for the United States, and for the world, finding a common path forward, a common path for cooperation is a mission that only young people can complete, this is your responsibility. For all of you graduating from this university, under the cooperation of these two great cities, at this moment in time, I believe your fate is destined to include this special mission."
Student speaker Pan, who spoke via video from her home in Shandong province, reminded classmates of all the residence hall conversations they had had "bringing two or more different worlds together," and how those conversations might become the foundation for a better world. "We're in an era where positions are taken so easily, that we often forget the fundamental things we share; where there's full of divergence and disagreements, it seems like everyone wants to talk, and no one wants to listen. And it was small moments like those on the slides of Jinqiao that kept me believing -- believing that we're on a great journey moving towards something extraordinary."
From her home in the United States, student speaker Adler also shared memories of her time at NYU Shanghai, saying the moment she stepped on campus, she knew she was surrounded by a group of driven, talented classmates with whom she knew she could grow stronger. "We are .... the class that persevered through the most unknown of times and entered into a world that was a state of complete and utter chaos," Adler said. "But like we've overcome the challenges of the last four years, we will overcome this too. NYU Shanghai class of 2020 is ready for the world, and the world is ready for us. Now more than ever, the world needs people like us to be the light in the darkness." Adler said.
Despite the unprecedented challenges of the last few months, the Class of 2020 has compiled numerous achievements. Three seniors have won Schwarzman Scholarships, while others have earned Fulbright Awards, the Clarendon Scholarship at Oxford University, and the Erasmus Mundus Scholarship. Many have won admission to prestigious graduate programs at Columbia University, Tsinghua University, and University of Colorado Boulder. Still many others are embarking on careers in multinational companies such as PricewaterhouseCoopers and the Alibaba Group.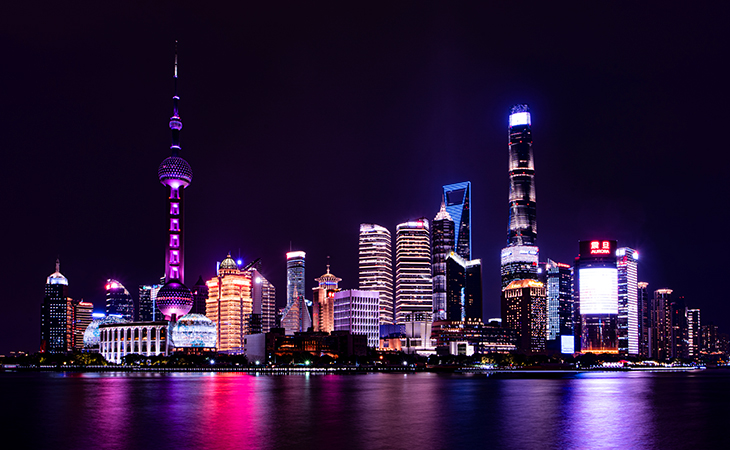 As the ceremony neared its conclusion, Chancellor Yu and NYU President Andrew Hamilton, who joined via video, formally conferred NYU Shanghai and NYU degrees on the graduates. Shanghai's iconic landmark, the Oriental Pearl Tower, was once again lit up in violet in honor of the NYU Shanghai Class of 2020. And as per tradition, the ceremony concluded with a recorded version of NYU Shanghai's Alma Mater by the university's chorale.
"As you step forward together into the next phase of your lives you will be forging a new path together. That itself is cause for hope, for you yourselves and for the contributions that you will make to the future and to a better world. May those hopes be richly fulfilled for you all!" Provost Waley-Cohen said.
--