MA TESOL Welcomes Its Second Class
Jul 22 2019
Twenty students making up the MA TESOL Class of 2021 arrived at NYU Shanghai on July 6 for orientation activities marking the official start of their coursework. The Class of 2021 is the MA TESOL program's second cohort, joining the 16 members of the inaugural Class of 2020.
The Class of 2021 come from diverse backgrounds. Most are in-service English teachers hailing from a variety of public and private schools, international schools, and language institutes while other students possess experience doing innovative work in the English teaching industry such as with online learning companies.
Zhenwen Zhu, an experienced English teacher at New Oriental Institute, said, "I decided to join this program because I believe it will help me know more about the most current language teaching theories and improve my teaching techniques. Also, it will provide me with a very good platform to exchange ideas with experienced professors and other students."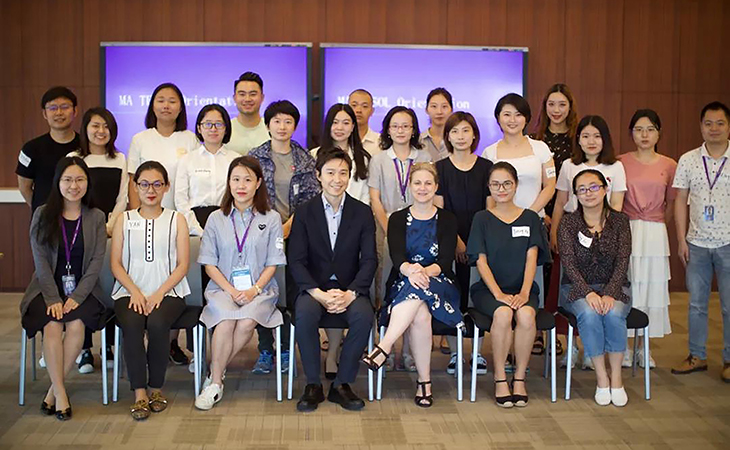 Group Photo with MA TESOL Directors Kentei Takaya and Robin Harvey in the Middle
The MA TESOL (Teaching English to Speakers of Other Languages) is jointly offered by NYU Shanghai and the NYU Steinhardt School of Culture, Education, and Human Development. For the past two years, NYU Steinhardt has been ranked among the top ten schools of education in the US by US News and World Report. 
The program is a two-year Master of Arts degree designed with a mix of on-campus and online courses that allows working professionals to avoid taking time out of their careers to complete their studies. The program also features an immersive summer module at NYU's Washington Square campus in New York City following the first year. Courses in the program are taught by faculty in NYU's renowned Multilingual, Multicultural Studies program, which encompasses TESOL as well as Bilingual Education and Foreign Language Education. 
Kicking off the orientation activities was Jeffrey Lehman, Vice Chancellor of NYU Shanghai, who warmly welcomed the students on behalf of the entire university and predicted they would become future leaders. Eric Mao, Assistant Dean of Graduate and Advanced Education, reflected on the achievements of the Class of 2020 in the past year before encouraging the Class of 2021 to think about how they too could leave a lasting mark during their time in the program.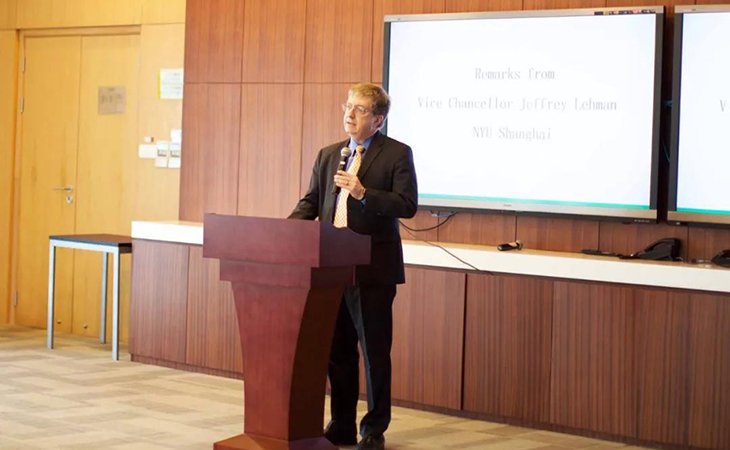 Jeffrey Lehman, Vice Chancellor of NYU Shanghai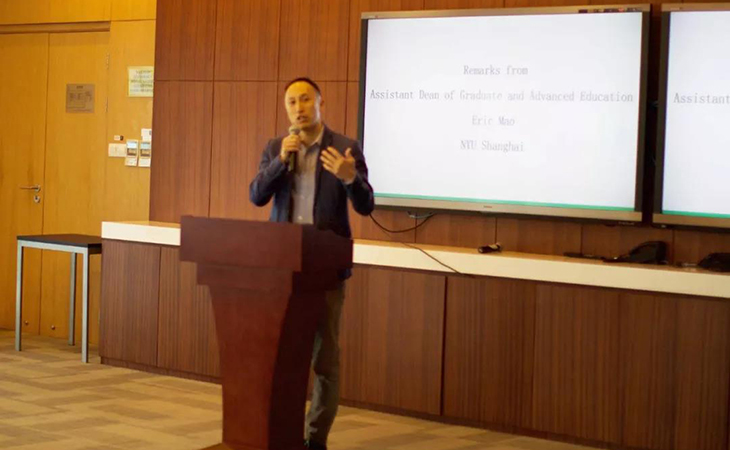 Eric Mao, Assistant Dean of Graduate and Advanced Education
Kentei Takaya, MA TESOL Program Director and Clinical Associate Professor at NYU Shanghai, said, "The program is designed by faculty members with expertise in second and foreign language acquisition research and years of experience working with Chinese international students and teachers. This is the second year since the launch of the program, and we are very excited to work with the second cohort of students." 
Program Co-Director Robin Harvey, Clinical Assistant Professor at NYU Steinhardt, added, "We are so excited to welcome this accomplished second cohort of students to our program at NYU Shanghai. They join a long tradition of MA TESOL students from China in our parent program on the New York campus. I can't wait to get started with the Class of 2021."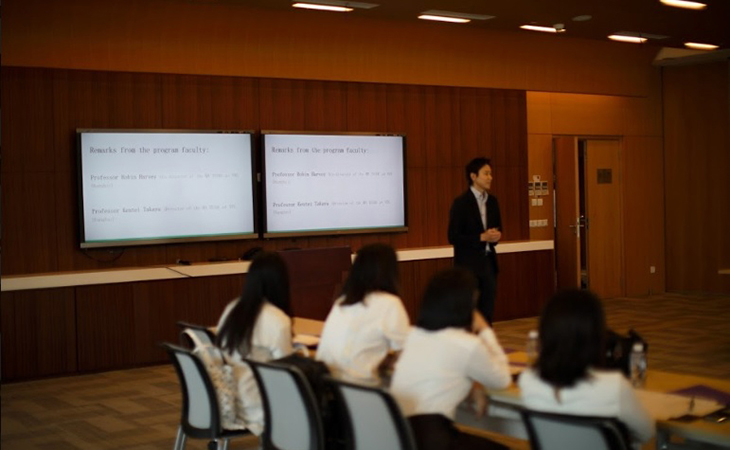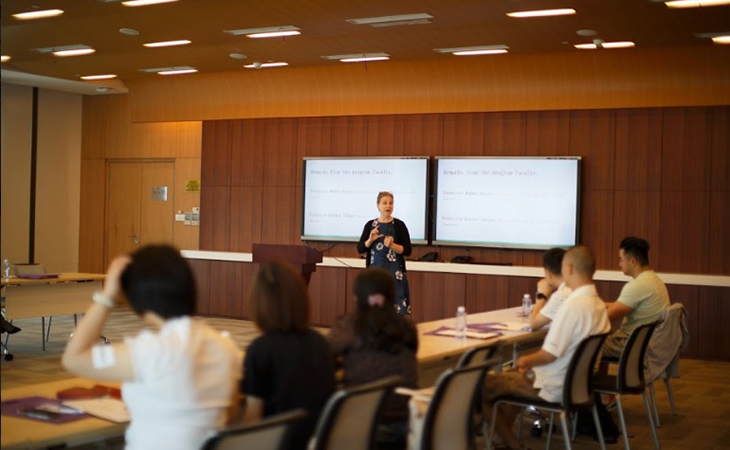 MA TESOL Directors Takaya and Harvey greet the Class of 2021 at orientation
The new students also learned about how they would be able to take advantage of NYU's wide variety of resources, including full access to library collections at NYU Shanghai and NYU New York. They also heard about NYU Shanghai's vibrant student life and academic community where events on wide-ranging topics throughout the year feature speakers from around the world. NYU's alumni network, especially strong in China, also offers numerous events for socializing and making professional connections.
This summer, students will be pursuing coursework in the theory and practice of teaching foreign languages along with the structure of American English. In future semesters, their coursework will include linguistic analysis, language evaluation and assessment, and intercultural perspectives in education, among several others.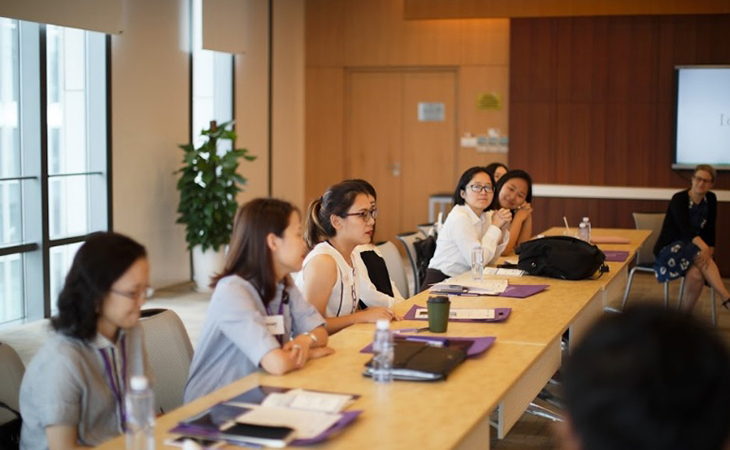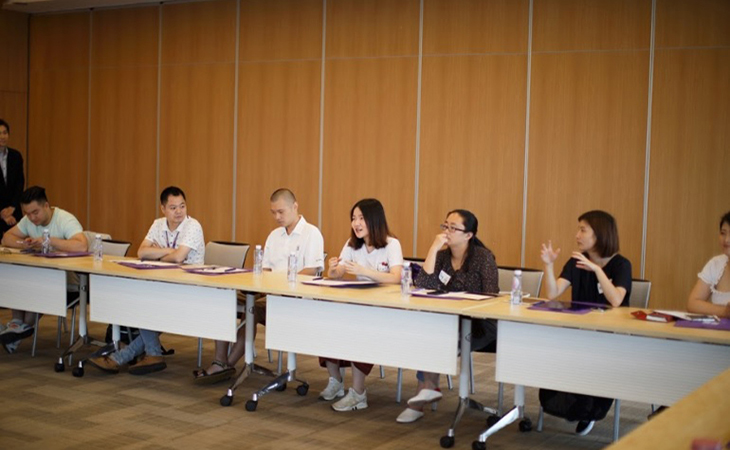 MA TESOL Class of 2021 during Orientation