Institute of Contemporary Arts Explores Indigenous Ways of Knowing
Oct 15 2021
The Institute of Contemporary Arts at NYU Shanghai (ICA) launched its new biennial artistic research program, Another Knowledge Is Possible, with the opening of Do Rocks Listen? on October 14, featuring the work of the Karrabing Film Collective, a grassroots Indigenous media group based in Australia's Northern Territory. Alongside the exhibition, the ICA is launching a new publication, COMPOST, to complement the research program and invite new ways of interacting with the ICA's exhibition themes.
Do Rocks Listen? is ICA's first all-film exhibition and is also the first comprehensive survey of Karrabing's films in Asia, after having been featured in exhibitions globally from Australia to New York. Karrabing's films depict versions of the collective's encounters with contemporary settler colonialism, using layers of archival footage, reenactments and voiceovers as a way to investigate and challenge their relationship with the state.
"One of the very strong aesthetic and conceptual strategies of Karrabing is to actually obfuscate, disorganise or mistranslate, so that when non-indigenous people see these films for the first time, they're often super confused," said ICA curator and director Michelle Hyun. "The encounters in the films are based on scenarios that could have happened -- or which did happen -- based on the collective's experiences as Indigenous people in a settler state. In filmmaking, they can take these encounters and make it into an image, another way of seeing these things."
For the exhibition, most of the ICA's gallery space has been sectioned off into a microcinema, with films played on a single large screen. Three of the four series, "The Intervention Trilogy," "Real But Got Story," and "Future Present" show the thematic evolution of Karrabing's filmmaking over time, and will be screened daily in the microcinema according to a set schedule.
"In a space of the ICA's size, people may only visit an exhibition for maybe twenty minutes at a time," observed Hyun. "But with films, they have the power of duration. When you operate it like a cinema where there's a start and end time, there's a different commitment made by the visitor in terms of how they engage with the content or subject matter, the artist and the work itself."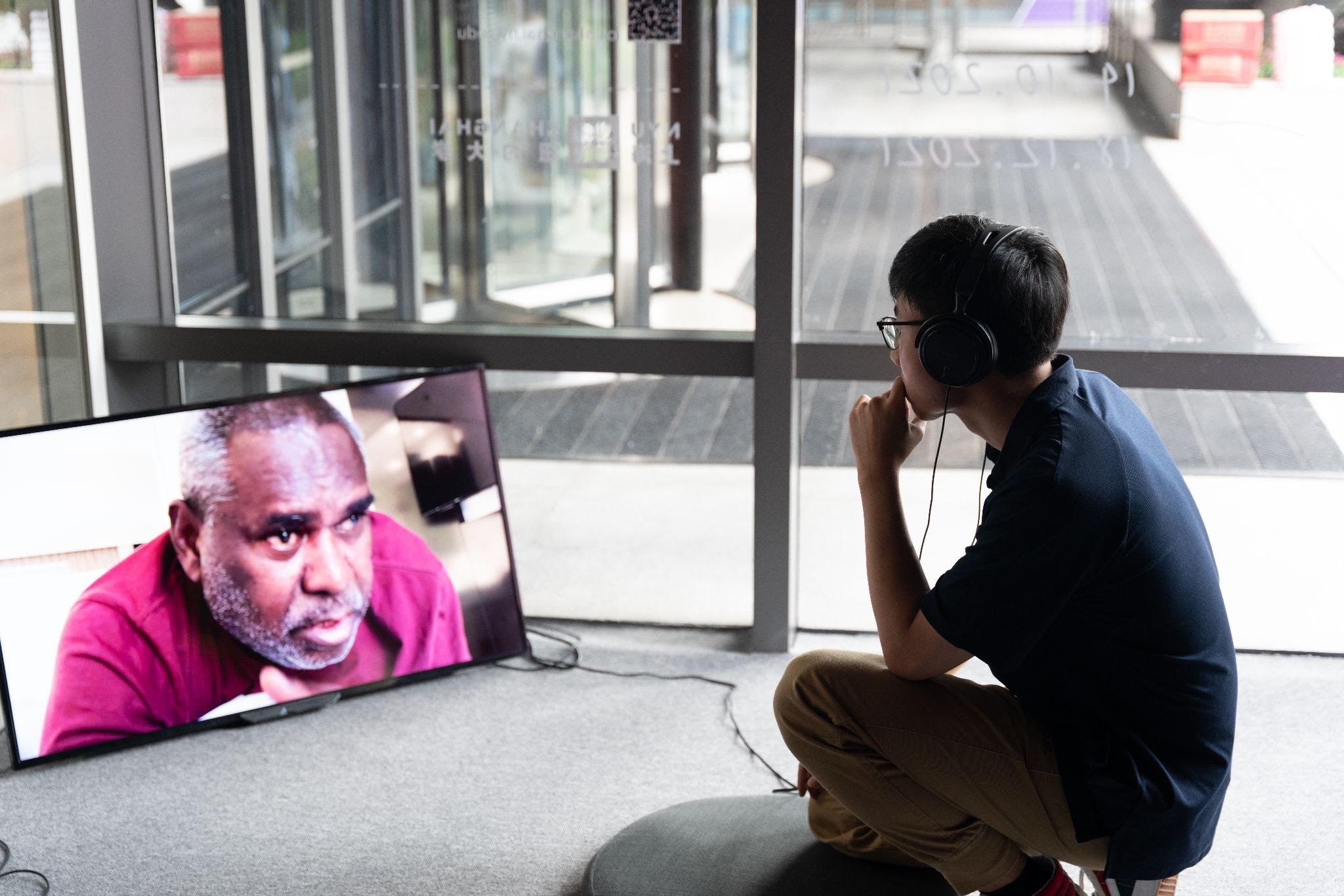 A visitor to the ICA views "The Riot" (2017), part of the "How We Make Karrabing" screening series. 
Title photo : Installation View: Do Rocks Listen? with Karrabing Film Collective. ICA at NYU Shanghai, 14 October–18 December, 2021. PHOTO: Zhu Zhenyu. Courtesy of the ICA at NYU Shanghai.
In addition to the main microcinema where Karrabing's longer films will be screened, smaller monitors in the gallery space continuously screen "How We Make Karrabing," a series of  shorter, expository films. While still marked by the layering of images and archival footage that is characteristic of all their films, in this series Karrabing members speak—sometimes directly to the camera—about their history, their experiences in filmmaking and in daily life. Additionally, keywords, a timeline, and a map printed on acrylic panels situate viewers within the political and social context of Karrabing's films. Hyun, along with ICA Assistant Curator Iris Zhu and Curatorial Assistant Bao Yang, worked with a designer to conceptualize the panels in a way that attempts to convey the complexity of the worlds Karrabing members inhabit. 
"These layered maps, timeline, and glossary were a way to perform the kind of aesthetic strategies that exist in the films, to critically reflect that there is more than one perspective of the timeline and cartography of the territory," Hyun said. The ICA also worked with translator Bob Zhang, in consultation with the artists, to translate the films into Chinese in ways that were sensitive to the specific language of Indigenous peoples in Australia. 
Do Rocks Listen? serves as the first season of Another Knowledge Is Possible, the ICA's second two-year research program, which will run from Fall 2021 to Spring 2023 and include three additional artists that either work directly with alternative ways of knowing or are inspired by kinds of knowledge that are often repressed or ignored. This new research program builds on the foundation of the ICA's previous biennial research program, The (Invisible) Garden, an interdisciplinary exploration of the construction of nature. 
"As we were going through the last research program, it became clear that a deeper interrogation about epistemology and what the dominant episteme requires would give us certain theoretical approaches or framing for how we do things like making a garden," said Hyun. "So I wanted to devote these next two years to thinking about alternative knowledges, radically other ways of knowing that would open up other spaces aside from our dominant knowledge."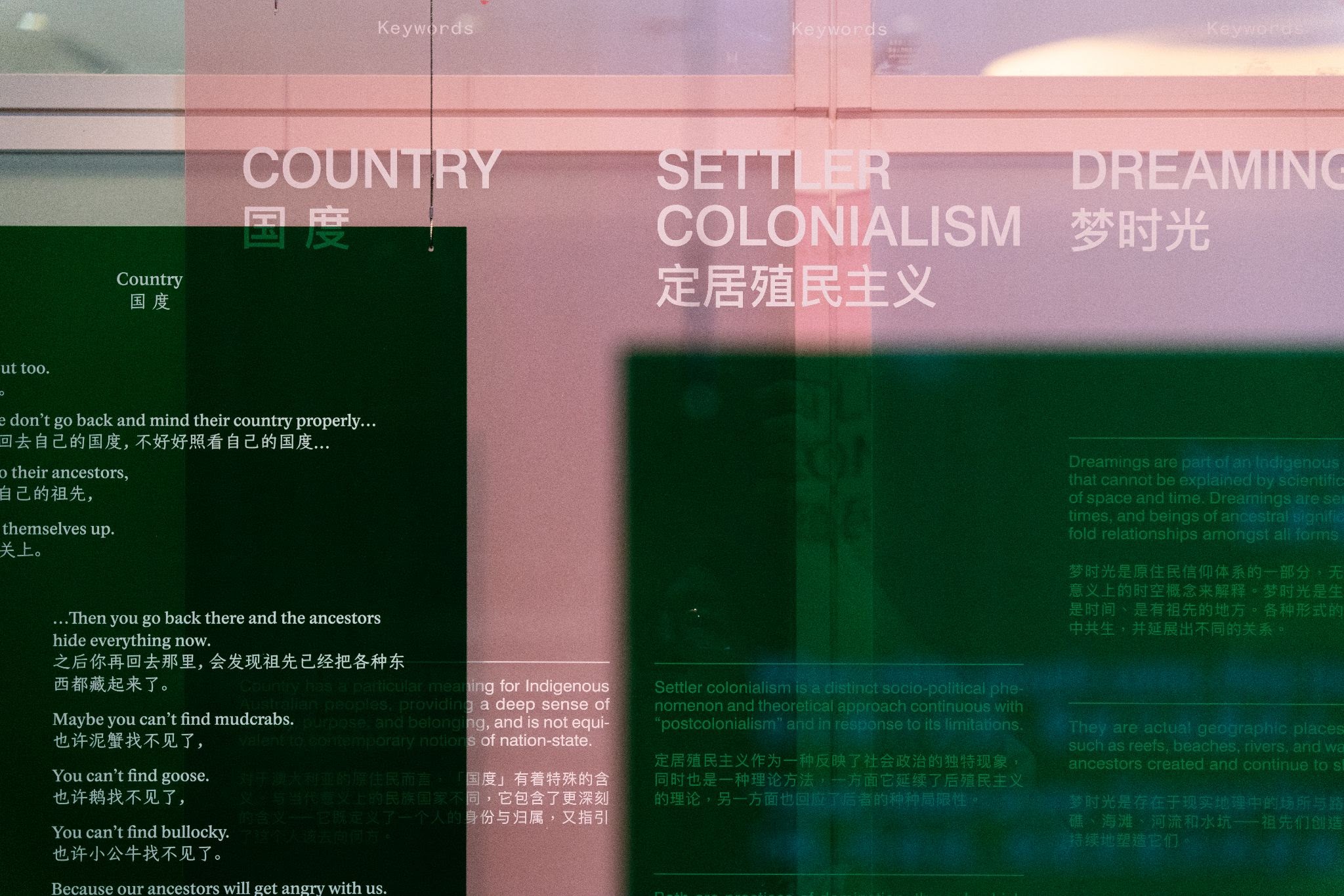 Layered acrylic panels provide context to the films, defining keywords both academically and in the words of the collective.
With the launch of Another Knowledge Is Possible, the ICA is also launching COMPOST, a new publication and residency platform to bring more voices into this discussion of alternative knowledges. The inaugural editor-in-residence is Zian Chen, a Shanghai-based researcher, critic and curator. "By taking composting as a methodology for writing and editing, the publishing interface becomes a contact zone for various interactions with the surrounding environment, gathering layer upon layer to offer readers the opportunity to excavate diverse pathways of reading," Chen writes in his introduction to the first issue. Over the course of his residency, Chen will commission texts, images, and videos from artists and scholars across China and around the world, and the platform will publish and host online discussions. 
COMPOST and Do Rocks Listen? aim to prompt larger questions about art as a form of knowledge which will run through the two-year research program. "Making exhibitions and working with artists is very different from writing a book or an academic article. Often in academia, people respond to books with book reviews and to articles in journals, whereas working with knowledge through exhibitions, you have a different mode of attention for what transpires in the engagement with art," Hyun asserts. "I imagine some possibilities may emerge while working with these artists."
Do Rocks Listen? is on view in person and online until December 18. As with every season, the ICA will hold in-person Study Sessions, each discussing one screening series. For the screening schedule, as well as more information about the study sessions and the artists please visit the ICA website. COMPOST's official virtual launch will take place online with a panel discussion hosted by the platform's 2021-22 editor-in-residence on October 23, and anyone interested in attending can register in advance.