Freshmen Yang Zhiheng and Bao Handan Bring Tennis Glory from 16th Shanghai Games to NYU Shanghai
Nov 1 2018
Six marathon battles in twelve hours, overcoming pain from blisters and cramps, were  what it took for tennis aces Yang Zhiheng '22 and Bao Handan '22 to earn first and second place, respectively, in their divisions at the tennis competition of the 16th Shanghai Games.
On Oct 27, the quadrennial municipal sports meet brought together some of Shanghai's top student athletes to compete for a series of city-wide titles. In the tennis competition, Yang and Bao were among some 200 recreational tennis players who reported to Shanghai University's tennis courts to challenge for titles in singles, doubles and team events.
Although freshmen just two months into their college careers at NYU Shanghai, Yang and Bao each successfully edged out five other seasoned upperclass opponents in a series of one-set matches, including defending champions, to reach the finals in men's and women's singles.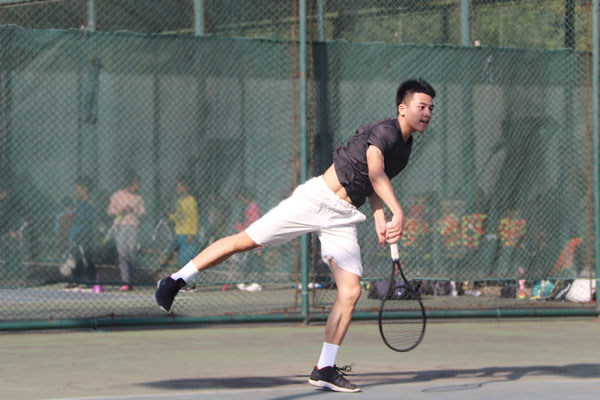 Yang Zhiheng '22 serves in a tennis match at the 16th Shanghai Games on October 27. (Photo by Nicole Wu) 
Defeating his last opponent 7-5 at 8 pm, Yang claimed his first men's singles title, while Bao's winning streak ended after she lost to the Donghua University finalist 3-6, finishing the tournament as runner-up in women's singles.
Yang and Bao are the first NYU Shanghai players ever to win or finish as runner up in the Shanghai Games.    
"After six grueling matches in one day, all I could feel after winning the championship point was a mixed feeling of exhaustion and gratitude. I'm grateful that my efforts and dedication paid off, and grateful for the unwavering support from my parents, my coaches and my teammates over the past 10 years," said Yang, who has been training since age eight, and competed in municipal and  even national tournaments in different age groups.
In his quarterfinal against Song Te, a senior student from the Shanghai University of Finance and Economics, a big-hitter who was considered a match favorite, Yang reversed a 3-5 disadvantage and saved a match point, pulling back to claim victory 7-5.
"I didn't give up even when on the brink of losing the game. His powerful strokes created lots of trouble for me, but luckily it was not too late when I found out his weakness in his backhand. I kept attacking his backhand to build advantage, then moving forward to the net to find volley opportuities. In the end, my tactic worked," said Yang.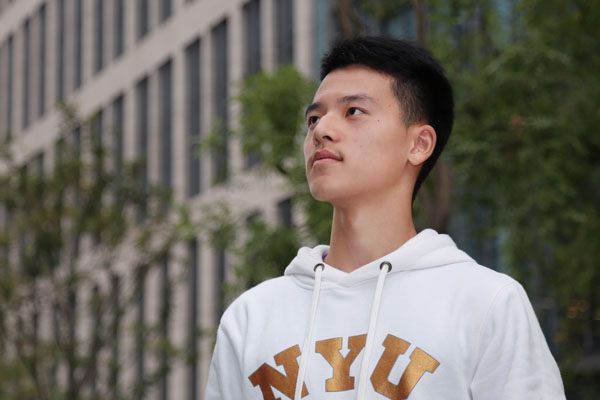 Kickstarting his freshman year on Century Avenue, the 18-year-old Shanghai native has already found new passions beyond the tennis court: an enormous interest in honors mathematics and an assistant job at the IMA lab. Yet he still maintains a tennis training  schedule of twice a week.
"Playing tennis matches has trained my ability to concentrate and stay focused, which I believe applies to mathematics study and as well," said Yang. "Also, managing the balance between tennis and study also requires me to deliver results in an efficient manner."
Though she lost to her rival in the final, Bao, an 18-year-old from Chongqing, said she considered finishing as runner-up out of a field of 40 contestants in her first municipal-level tennis competition in Shanghai "a good start."
Bao was locked in a 90-min seesaw battle in the second round with the defending champion: Wang Ziling, a graduate student from Shanghai Maritime University. Bao lost her service game early on, but managed to fight back from a 0-2 deficit to even the score at 4-4, finally breaking her opponent in the last game to snatch the victory, 6-4.
"I was the youngest player in the draw, competing against much more experienced rivals. Playing six sets in one day definitely pushed my endurance and skills to the extreme," she said. "You have to face your errors and shortcomings squarely. In a formal match, one can only perform at 30-40 percent of your training level."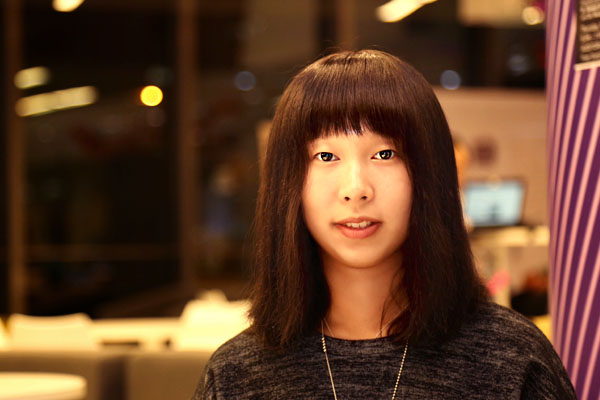 Like Yang, Bao started practicing tennis in early adolescence. Coached by her father, she was a solid performer for her high school tennis team. However, this was her first time playing tennis matches without her "coach."
"It felt a bit strange that I had to rely solely on myself for strategy and adjustment. Luckily, our NYU Shanghai teammates were on the side of the court cheering me all along. I am very grateful to be a member of this excellent team," Bao said.
Bao, who enrolled at NYU Shanghai with plans to study finance in the financial hubs of Lujiazui and New York, said that her tennis training has also helped strengthen her academic performance. "Playing tennis matches has allowed me to think independently, discover the problems and figure out solutions. All of these qualities are essential in my daily study now."