Collaborate, Compete, Consult: NYU Shanghai's First Consulting Case Competition
Mar 10 2023
NYU Shanghai's first Consulting Case Competition (CCC) held by the Center For Career Development (CCD) brought 132 participants from 37 teams, including everyone from first year students to seniors, and ranging from 14 majors. Throughout the three week long event, students conducted research on the fresh ground coffee market, worked on innovative growth strategies, calculated profit estimations, accessed feasibility and eliminated potential risks.
The competition was initiated by two seniors Elena Huang '23 and Ashley Yin Qi '23 who not only lead the Consulting Interest Group (CIG) but are also consulting competition veterans. Huang was Champion of the 2022 Oliver Wyman Impact Case Competition and after graduating will join McKinsey & Company as a business analyst. Yin has completed internships at BCG and LEK and won 1st Place in the Morgan Stanley Future Female Traders Competition. The two said they have observed a growing enthusiasm among NYU Shanghai students towards the consulting field and an increase in case competition participation. All eight CIG student ambassadors demonstrated great teamwork and entrepreneurship spirit throughout the event.
Three distinguished ex-McKinsey speakers generously conducted three training sessions for the student participants. Cindy Chiu, Lan Ma and Sherry Zhang led sessions covering an industry overview, 7-step problem solving, and storylining and presentation, which laid a necessary foundation for students to develop their case analysis skills. Eight NYU Shanghai alumni currently working at leading consulting firms served as student mentors as well as competition judges.
Deloitte Consulting Business Analyst Yi Zheng '21 designed the case competition topic: Coffee & Co.'s Growth Strategy in China. He said he was pleasantly surprised by the students' outstanding performance especially compared to his own student experience." [As a student] I was unfamiliar with consulting and industry analysis," he said. "Witnessing the impressive display of expertise by NYU Shanghai students today, their exceptional understanding of these complex concepts is truly inspiring."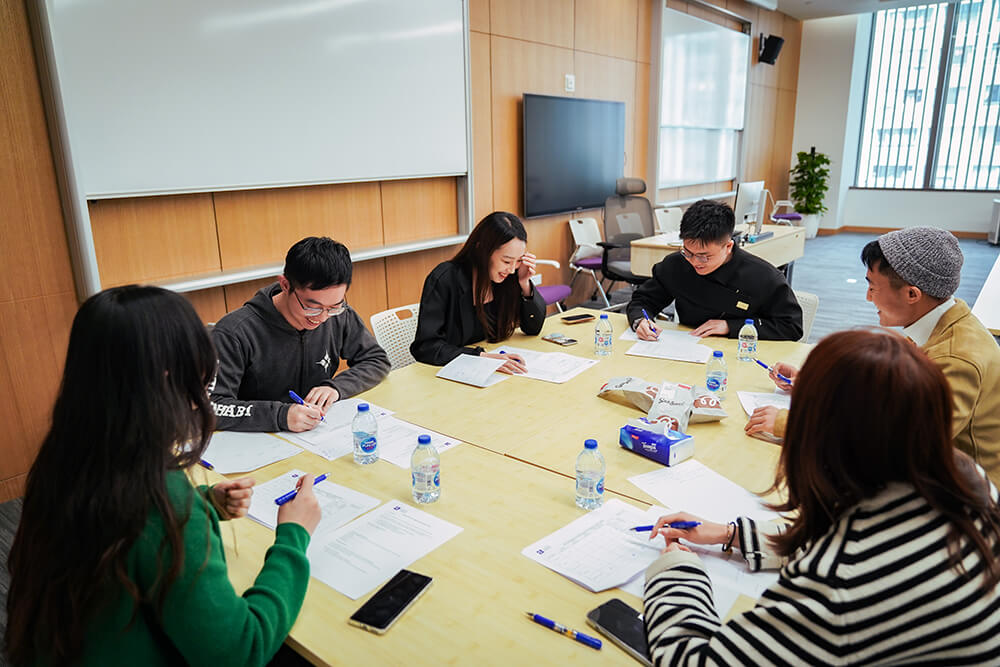 Caption: Judges discuss students' presentations ( Wang Chaoqun '20, Xiang Jiaqiao '19, Xu Yitong'21, Zheng Yi '21, Luo Yizhen '19 and Qu Jiayun '19, clockwise from left)
The Starlucks team, a group of four second-year students from three different majors, won the championship by presenting a five-year growth strategy for Luckin Coffee. The team shared that " As we say with luck and efforts, we can all become stars, which echoes the team title of Starlucks." Teammember Zhang Yunhe said he was thrilled to have gained many valuable skills from the case competition. "I now understand the importance of having a coherent and logical storyline, as well as innovative strategies that are based on current economic conditions and brand positioning," he said. "Market analysis should also be comprehensive and thorough."
Team leader He Peiyu ensured that no member was left behind at any stage of the project. "We provided support to any member who encountered difficulties, both in work and in life, to ensure that everyone was on the same page and nobody was left behind," he said. "Additionally, we created unforgettable memories during the three weeks, formed strong bonds, and established connections with many senior mentors that will benefit our future careers."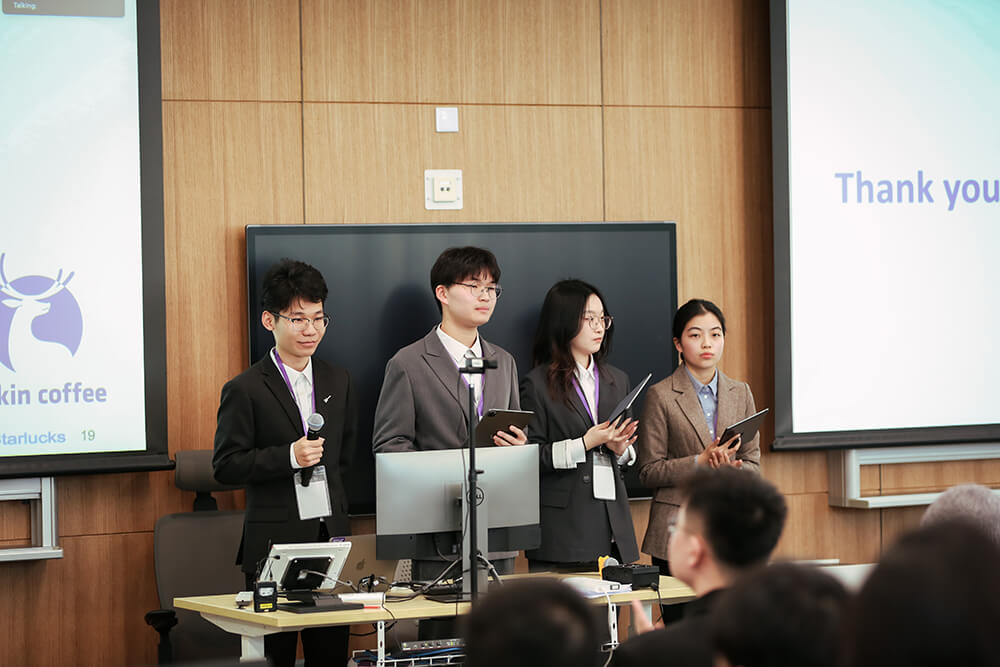 Caption: Team Starlucks members (left to right): He Peiyu '25,  Zhang Yunhe '25, Xu Jiaming  '25,  Shi Yuxin '25​
Winner of the Best Presenter award was first year student Makayla Hsieh of Team Sleep No More. She said the one-on-one mentoring session helped her gain a better understanding of the industry and what it is like to tackle modern business problems as a consultant. "It was definitely intimidating to present in front of successful alumni and compete against many talented upperclassmen," she said, "but my inner Texan told me to go big or go home, so I made myself heard clearly. Confidence is the key!"
The CCD said the competition brought together a diverse group of students and allowed them to experience working towards a common goal. Through the competition, students unlocked their problem-solving potential and learned to generate innovative ideas and solutions, key competencies required by employers. The CCD hopes that students will join in upcoming activities, including career workshops and employer events.