Chinese Tech Company ELEGOO Donates Cutting-Edge 3D Printers to IMA
Sep 13 2023
On September 7, the IMA program received a generous gift from Chinese technology company ELEGOO ——the latest resin printers from the company's Saturn and Mars series, along with the latest FDM printer from its Neptune collection, which also includes a Mercury Bundle washing device, filaments, and resins. The printers were selected to meet NYU Shanghai students' needs while creating their Interactive Media Arts research projects, including in the fields of human computer interaction, robotics, physical data visualization, and interactive fashion.
ELEGOO, a rapidly developing brand in the global smart manufacturing industry, specializing in R&D, manufacturing, and sales of consumer grade 3D printers, laser engravers, STEM kits, and other smart technology products is based in Shenzhen. "We are proud to support the development of NYU Shanghai's IMA program," said Chris Hong, the Founder and CEO of ELEGOO, "We believe that technology and art go hand in hand, supporting and inspiring each other. We are excited to see how our products empower students to unleash their artistic inspiration."
Ryan Xiao (NYU'12), Vice President of ELEGOO, spoke to IMA students about his NYU experience. "I always believe that's what makes NYU such a unique kind of educational experience: leveraging the diversity and the influence of a major metropolis, so that students are encouraged to combine what they learn in the classroom with a bigger world beyond the classroom." He praised the IMA program at NYU in New York, Abu Dhabi and Shanghai, in particular for its goal of "achieving infinite possibilities for makers of all stripes to explore the application and implication of new technologies in art, science, engineering, design and the humanities."
The ELEGOO printers have been installed in the Fabrication Lab of NYU Shanghai, a creative space at the heart of the IMA program, fostering artistic innovation and technological exploration.The ELEGOO technical team demonstrated the installation of one of the 3D printers and guided a group of enthusiastic IMA students through each step.
"We deeply appreciate ELEGOO's support, and the collaboration has the potential to generate a positive impact as we forge ahead with arts and technology," said Undergraduate Coordinator and Associate Arts Professor of IMA Marcela Goody, "We look forward to applying ELEGOO's products in future teaching and artistic creation, and seeing how they will make the creation process more efficient and exciting for the students."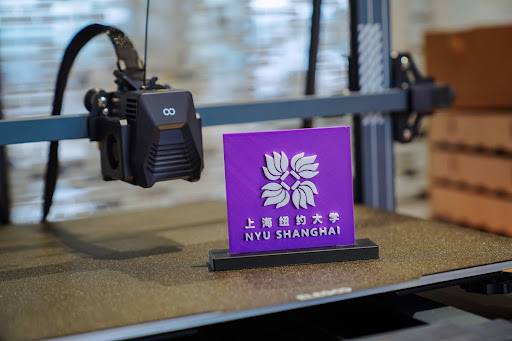 3D printed sample with NYU Shanghai logo from ELEGOO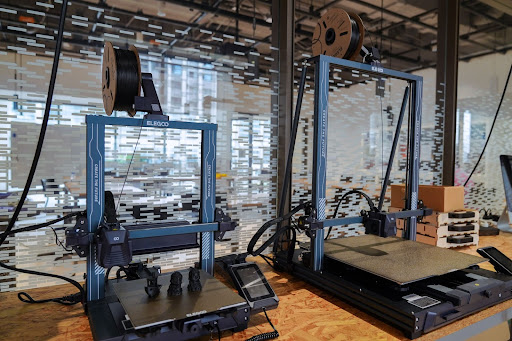 ELEGOO's FDM 3D printers Neptune 4 Pro and Neptune 3 Max being installed in the
Fabrication Lab of NYU Shanghai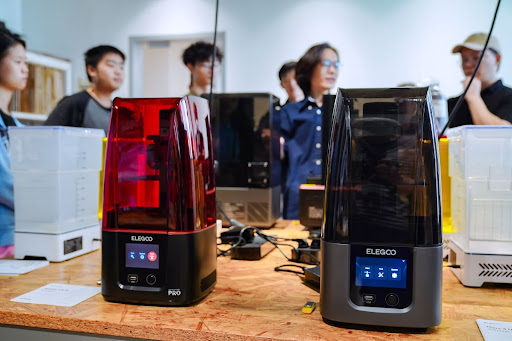 ELEGOO's Resin 3D printers Mars 3 Pro and Mars 4 Ultra being installed int the
Fabrication Lab of NYU Shanghai