CDC Launches New Executive Mentor Series
Nov 2 2018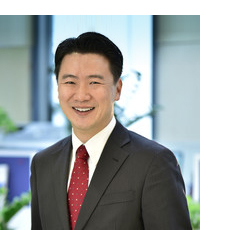 The Career Development Center (CDC) of NYU Shanghai kicked off its new Executive Career Mentor series on Thursday with a presentation by Royce J Hauw, Asia Pacific Executive Recruiting Lead for Goodyear Tire and Rubber Co., a Fortune 500 Company.
"College is the place to find your passion. I encourage students to try everything and just explore the 'journey,'" Hauw told the crowd. "However, most importantly, they need to assess their own skills; see where they stand, and know the reality."
Hauw, a 25-year veteran in human resources and recruitment, will serve as CDC's first long-term executive career mentor at NYU Shanghai. He will deliver workshops to students once or twice every month, preparing students for the competitive recruitment world.
In developing this new mentor program, CDC hopes to bridge students with frontline recruiters with years of experiences.
"It's our great honor to engage business leaders like Royce who have a great passion for coaching college students," said Guo Hao, CDC director. "I was so impressed by Royce's framework of preparing young talents' progressive mindset and skills for facing uncertainty in the changing world."
Hauw's first two-hour workshop focused on how best to engage with interviewers. Hauw led activities such as "mimic the speaker" and taught students how to observe one's body language when speaking. He emphasized that in many cases, body language can leave a much stronger impression than what you actually say.  
Hauw also invited Xin Ying, the Talent Acquisition Business Partner at Coca Cola Asia Pacific, to help students better understand "the other side of the table," the employer's perspective.
"With the development of AI, now more and more companies implement technology in recruitment to access candidates' behaviors," Xin said. "For example, an online interview program would ask questions like 'what's the biggest challenge in your life and how did you overcome it?' And then it compares your answers with the ones of their current employees to see if you are a good match." What the companies are testing here, she said, are the behaviors of the candidates, to see how they respond to difficult situations, and how they work with others.
Hauw also advised students to start networking right away. "More than 80% of jobs come from someone you know, not job posts," he said. "GPA is important, but not everything. Establishing valuable relationships with valuable people, now, when you are in college, is going to benefit you more than anything."  
"I appreciate Hauw being very genuine and honest when approaching this topic. It's really helpful," said Bridgette Williams '19, a Finance and Global China Studies major. "The workshop shares many similar topics with the class Organizational Communication that I am taking this semester. Last week we had to record ourselves and then watch the muted video, to see how we present in a business setting communicating with team members."
This semester, CDC has held 15 workshops, helping some 450 students prepare for the world of work beyond Century Avenue. In September, the Career Development Center also co-hosted its largest ever job fair with Lujiazui Oracle Bay, bringing 71 employers from 27 industries on campus to discuss potential job opportunities with NYU Shanghai students.
Guo said CDC has plans to bring even more leaders from diverse industries on campus for the Executive Mentor series.