Building Dreams in Shanghai: NYU Shanghai Photo Exhibition Opens at Oriental Pearl
May 25 2017
On May 22, NYU Shanghai's Commencement Photo Exhibition premiered at Visitor Center of  the Shanghai Oriental Pearl TV Tower. A memorandum of understanding between the University and the Tower was also signed to promote cooperation in boosting students' extracurricular activities.
Decorating the  circular corridor of the TV tower's second-floor where 20,000 visitors line up every day to go up the tower, the 32-panel exhibition displays a selection of photographs and student quotes that span the first four years of NYU Shanghai's history. The University will be graduating  its inaugural class on May 28, 2017.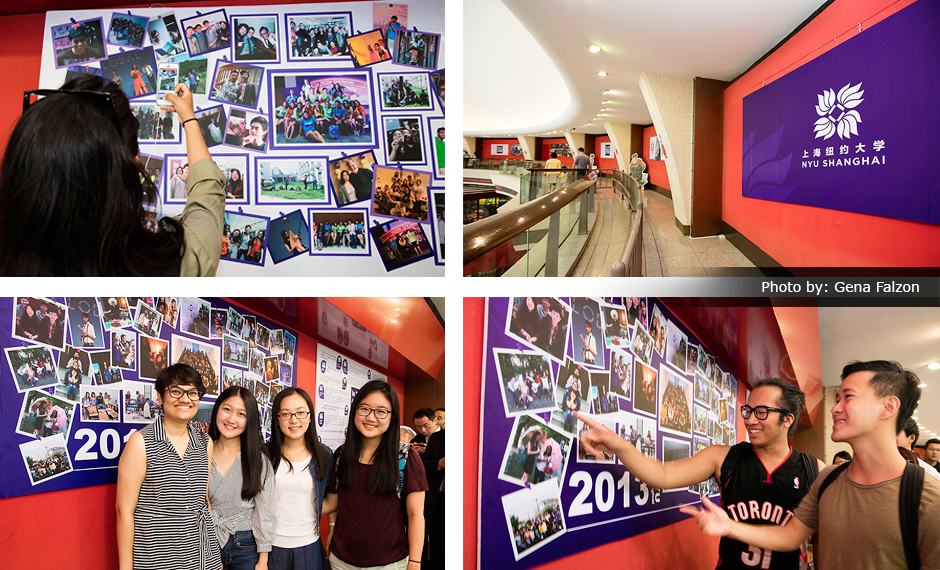 NYU Shanghai Chancellor Yu Lizhong described the Oriental Pearl Tower, as a landmark architecture of Shanghai that represents the inclusiveness and open mind of the city. "On this platform, NYU Shanghai, as the first Sino-US joint research university, introduces  our philosophy in international education, as well as China's new concepts and practices in higher education," he said.
At the ceremony, NYU Shanghai and the Shanghai Oriental Pearl TV Tower also signed a framework agreement to build strategic partnership and jointly organize a series of activities that promote culture and public services. The Oriental Pearl Television Tower Company pledged to offer  venues for extracurricular projects to NYU Shanghai students, while the University agreed to participate in the operation of the city landmark.

Applauding the agreement, Vice Chancellor of NYU Shanghai Jeffrey Lehman spoke about the Oriental Pearl Tower and NYU Shanghai's shared vision. "We both believe that the world becomes better when people go exploring, when they look outward and reflect on what great cities can do. I celebrate our partnership and look forward to building on today's beginning for many years to come."
Huang Jin, general manager of the Oriental Pearl Tower, said that over the course of 50 public service events, press conferences and exhibitions every year, the Tower has been actively enriching the city with its open-mindedness and pursuit of excellence. "As NYU Shanghai strives to achieve world excellence, we hope to forge further collaborations to seek win-win development."

In honor of NYU Shanghai's graduating Class of 2017, the Shanghai Oriental Pearl Tower will be lit in NYU Shanghai's school color, violet, on the evenings of Saturday, May 27 and Sunday, May 28, from 7pm to 10pm, following a longstanding tradition of the Empire State Building doing the same in honor of NYU's graduation.