Picnics in the park, bike rides and walks along the Huangpu River after class, dining in trendy international restaurants or traditional Shanghai eateries, going for a swim, or having coffee and studying in a cozy bookstore–it might seem like a stretch to envision now–but these are just some of the activities to look forward to when NYU Shanghai's new campus located in the Qiantan district opens in Spring 2023.
While they are temporarily locked down as Shanghai works to control the latest outbreak of COVID-19, some 1,000 construction workers have made great progress on our new 114,000-square-meter campus, completing 85% of the glass installation, air conditioning, fire protection, water supply, drainage, bridge and cable equipment work. The campus' twenty-four elevators, and the interior and signage design of spaces such as  the Welcome Center and black box theater are now complete.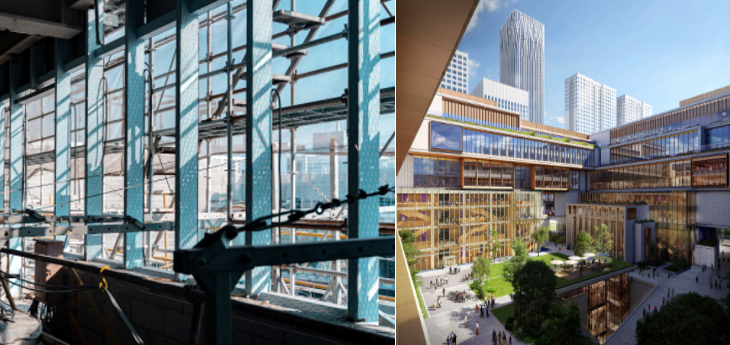 Let's take a sneak peek at our soon-to-be neighborhood. Qiantan, also called the New Bund, is one of Shanghai's newest neighborhoods, and many of its rich recreational, commercial, and educational resources will be within walking distance of NYU Shanghai's new campus.
Watch Video: NYU Shanghai's New Campus Neighborhood Tour!
The Metro Stop
Just a ten-minute walk from the new campus is the Oriental Sports Center Metro Station–where Lines 6, 8, and 11 can take you just about anywhere in the city from the Pearl Tower to People's Square to the former French Concession to Shanghai Disneyland.  Bus lines 1115 and 1160 also service the area.
Grab a bite to eat, a book to read, or go for a run.
Just outside of Exit 1 of the Oriental Sports Center metro station is Taikoo Li, one of the largest shopping malls in Qiantan's International Business District and the first mall in Shanghai with its own rooftop running track. Among its 250 retailers are international clothing brands, trendy coffee shops, and a myriad of food options - from local Shanghai cuisine and hot pot to Japanese sushi and Thai noodles to vegetarian restaurants and classic American fares offered by Shake Shack and Cheesecake Factory. The famous Japanese bookstore Tsutaya Books and a first-run movie theater round out the mall's offerings.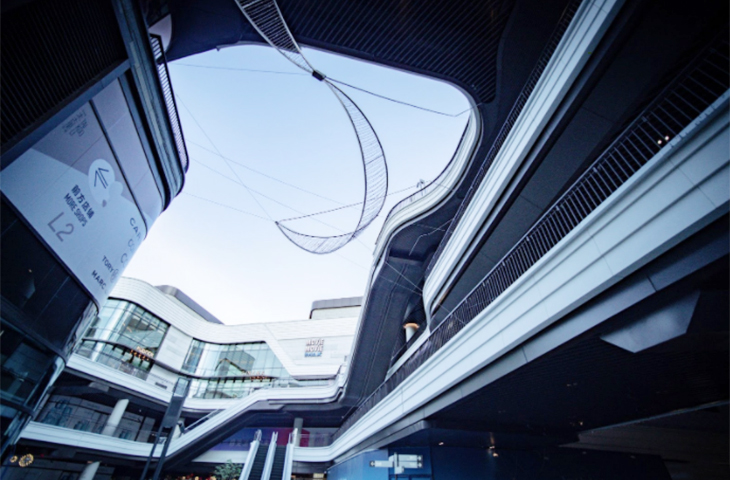 Across the street from Taikoo Li is Qiantan Crystal Plaza, another shopping center stacked with its own movie theater, a large supermarket that offers local and imported goods, and a plethora of other restaurants including local street food and bubble tea.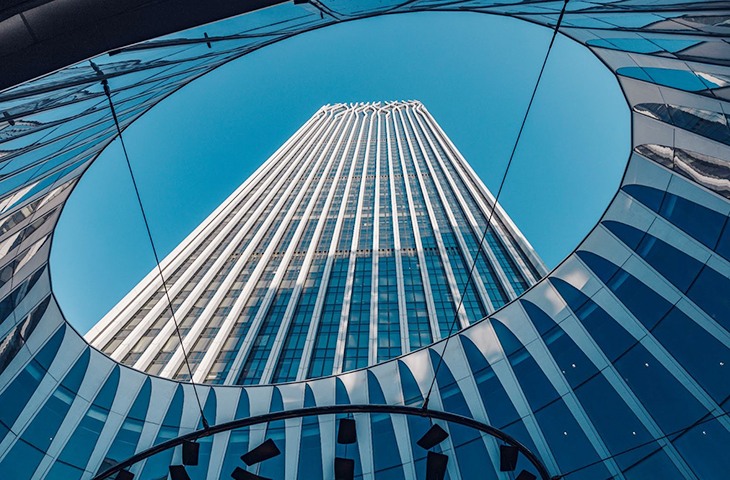 Next to Taikoo Li is The Qiantan Center, an office building and paired hotel along the bank of the Huangpu River. Photo by Charles Bingaman '24
Outdoor and Indoor Sports
Next to the Taikoo Li and Crystal Plaza shopping centers and accessible from the Metro's Exit 5,  the Oriental Sports Center includes an indoor stadium that accommodates basketball, table tennis, and badminton as well as an indoor pool. Outdoor facilities include a swimming pool equipped with diving boards, a soccer field, and outdoor basketball and tennis courts.
Court time can be reserved via the Oriental Sport Center WeChat channel. Usage fees are reasonable. For example, reserving the badminton courts for an hour will cost somewhere in the ballpark of 30-60 RMB, less than $10.
Walk a bit further south and you'll come across Qiantan Sports Park, another venue that has a soccer field, basketball and tennis courts, and even indoor golf.
Explore the arts and unwind in more green space.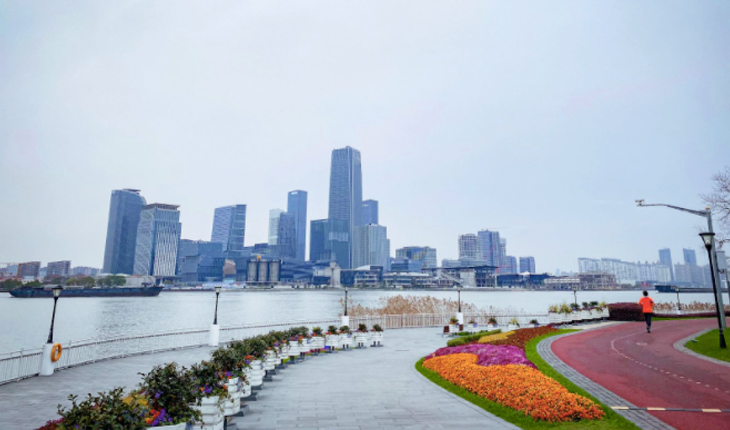 Fresh air, a stunning river view, and free entry are just a few perks of having Qiantan Park nearby–only a 7-minute bike ride or 20 minute walk from campus. Stretching across more than 600,000 square meters, it's the perfect spot for long meditative walks, bike rides, and picnics with friends overlooking a river view across from art centers like TANK Shanghai, the West Bund Art Center, and the Center of Photography. 
Qiantan also has an up-and-coming Performing Arts Center located in the Central Activity Zone, a venue that will be bringing world-class performances to local audiences.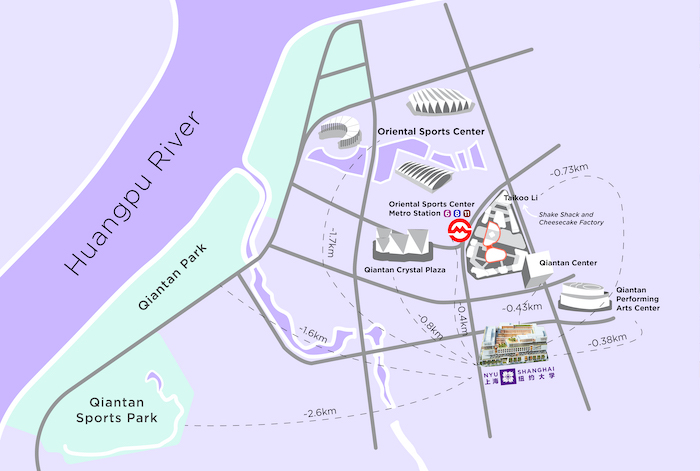 To get a feel of the building's layout and interior spaces–and so you can start mapping out your favorite study spots–flip through NYU Shanghai's Qiantan campus brochure here. You can also scroll through updates of the campus' construction progress as well as look back on ten years of growth at NYU Shanghai on our new 10th year anniversary page.