Lala Zuo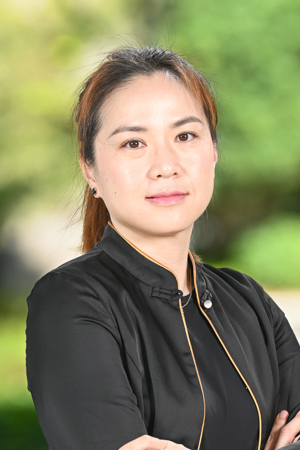 Director of Digital Heritage Lab, Area Head of Global China Studies, Associate Professor of Art History
Lala Zuo is the Director of the Digital Heritage Lab, the Area Head of Global China Studies, and an Associate Professor of Art History at NYU Shanghai specializing in East Asian art and architecture. She received her BA in archaeology from Peking University with a special concentration on heritage architecture. She studied East Asian art history in addition to architectural history and theory at the University of Pennsylvania, where she earned both her MA and PhD.
Dr. Zuo is the author of Diversity under the Great Unity: Yuan Regional Architecture, the first in-depth English-language work to present regional traditions of Chinese architecture based on a detailed study of the timber construction system. In the book, Dr. Zuo presents case studies of twenty known buildings along the Yangtze River built during the Yuan dynasty (1271–1368) based on her field trips and surveys. Although the primary focus of this book is the technical evolution of surviving Yuan architecture, its interdisciplinary approach goes beyond architecture by offering a re-evaluation of Chinese society in light of cultural and religious diversity under Mongol rule.
In addition to her primary research interest in the architecture of mid-and-late imperial China, she has also published multiple scholarly articles about heritage preservation and digital projects on art and architectural history. She is currently working on her second book project examining Chinese architecture built in the United States since 1800 with a focus on their cross-cultural significance domestically and internationally.
Dr. Zuo teaches introductory and special topics courses on the art and architectural history of China.
Select Publications
Diversity in the Great Unity: Regional Yuan Architecture. Honolulu: University of Hawai'i Press, 2019
"VR-Heritage: Chinese Cultural Heritage in the Digital Age." Ars Orientalis 50 (2020) (forthcoming; co-authored with Jianwei Zhang)
"Wartime Collaboration on Preserving the Historical Monuments: The Roberts Commission in China 1944—1945." Heritage Architecture, Issue No.4 (2016): 38-51
"Build for the Living: Stone Buildings of the Yuan Dynasty." Frontiers of History in China, Issue No.2 (2015): 264-288
"Transplantation and Inheritance: From Art History to Architectural History." In Art Education and Aesthetics under Cross-Cultural Interpretation, 251-256. Beijing: Qinggongye chubanshe, 2015. (co-authored with Shaoqian Zhang)
Education
PhD, East Asian Languages and Civilizations
University of Pennsylvania
MA, East Asian Languages and Civilizations
University of Pennsylvania
BA, Archaeology
Peking University
Research Interests
East Asian Architecture
Chinese Art and Archaeology
Theory and Practice in Heritage Preservation
Digital Projects of Art and Architectural History
Chinese Urban Planning