NYU Shanghai provides a variety of loaner hardware for student and faculty use. Such equipment ranges from things like laptops to tripods, and more. If you need resources for your academic pursuits, chances are Loan Services can help.
You can go to our service center to loan equipment
Room 427, Front desk
Mon-Thu: 8:30am - 9:00pm
Fri: 8:30am - 5:30pm
shanghai.it.help@nyu.edu
Hotline: +86 (21) 2059 5555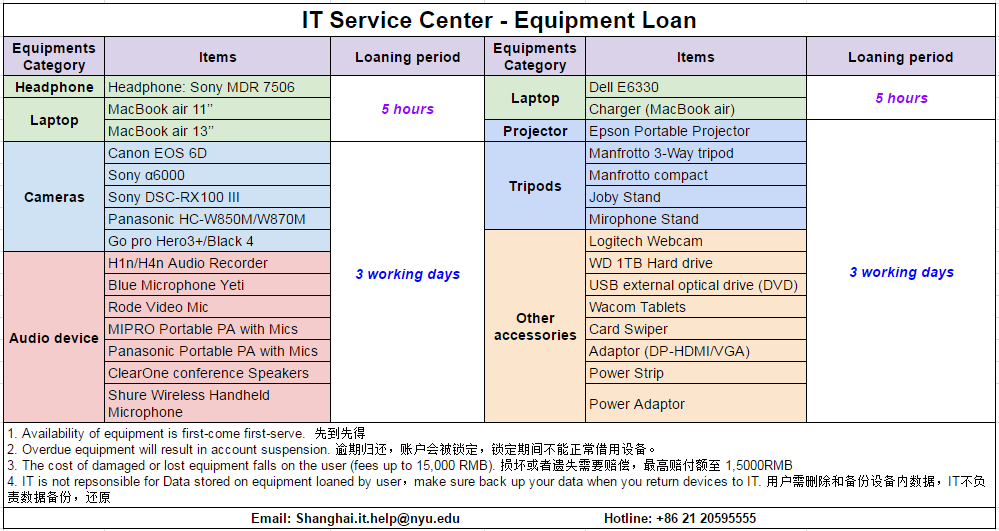 Loan periods are from 5 business hours to 3 days basing on different items. Loan periods can be extended up to 2 weeks. Special case need approval from Loan Desk managers.
| Equipment  | Default loan period |
| --- | --- |
| Laptops, changers and headphone |  5 Hours |
| Camera gear and accessories |  3 Days |
| Other Technical accessories |  3 Days |
| Power Point Clicker |  5 Hours |
Loaners are only available to NYU Community members. In order to apply as a non-NYU community member, a sponsor is required.
Equipment is loaned on a first-come first-served basis.
Note: Equipment borrowed can only be used within mainland China.
What happens if I lose or fail to return the equipment on time?
Equipment returned late will incur the following penalties:
1.Borrowing privileges will be blocked for late returns. Block time=late time x 2
2.Repeated delinquency will result in blocks and fines.
3.Students with outstanding equipment loans will be charged the full replacement costs of items borrowed
4.Once the billing process has been initiated, a non-refundable processing fee of 500RMB will be assessed. No exceptions.
If there aren't any holds on your checked out item, you can renew it before your loan period ends. However, if the item is overdue, you will not be able to renew it. Please make sure that you renew your item prior to its due date. If you'd like to renew any equipment, please bring it to our front desk and we'll take care of the rest.
What if I don't know how to use the equipment?
Our equipment loan services team would be happy to provide a basic rundown of all available equipment. There will also be equipment tutorial workshops in the future.
What if the equipment is damaged when return?
Loaner computers are NOT covered by your insurance. Any repairs will be performed by NYU Shanghai ITS and repair charges for loaner equipment are the full responsibility of the customer. The charge for physical damage to loaner equipment is based on the repair fee quoted by vendor, and the full asset value (price) of device will be charged if equipment is lost or stolen, and equipment damage or loss will incur a replacement or repairing fee, maximum up to 15,000RMB depending on the actual price of the specific equipment.