Vehicles entering the NYU Shanghai Campus must go through a barrier gate. To access the campus and parking garage, please obtain a Parking Permit or register at the gate.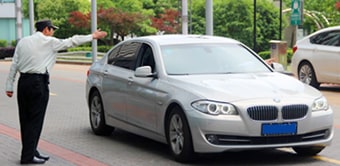 * Only permanent full-time employee faculty and staff are eligible to apply for Parking Permits. NYU Shanghai portal or study away students are not eligible.
Apply for a Parking Permit
BORDER DO NOT TOUCH

Instructions
Step 1: Submit an application
Step 2: After the application is reviewed, a permit will be issued in 2 business days
Step 3: Pick up your permit upon notification
             Required Materials
             Copy of Driving License
             Copy of Vehicle Travel License
             Copy of Vehicle Travel License
             Copy of your Government Issued ID or NYUCard
             Signed Safety Commitment Statement
Instructions and Traffic Safety
BORDER DO NOT TOUCH

Parking Permit Instructions
Your permit should be placed in an easily visible location at the bottom left of your front windshield when your vehicle is on campus.
Please present your permit for inspection when necessary.
Do not lend, copy, or forge your permit.
If your permit is lost or stolen, please report this to Public Safety.
Public Safety reserves the right to issue and verify permits.
Traffic Safety on Campus
Observe all traffic signs, notices, and rules for driving on campus.
Follow designated routes and do not exceed five kilometers per hour when driving.
Do not honk your horn.
Be polite and courteous when driving.
Park your vehicle in the B2 garage. Do not park on the main road, on crosswalks, on grass or in other areas where parking may obstruct traffic.
Do not move, dismantle, or vandalize any traffic sign or facilities on campus.