The NYUCard is a must for all NYU Faculty, Staff and Students. The card allows cardholders to access three campuses and eleven academic centers in the New York University Global Education System (GNU), and provides access to, catering, printing, billing, library, and campus transportation services.
The NYUCard should be carried at all times while on campus. If you separate from NYU for any reason, you must return your card, which is the property of the University, to the Public Safety offices (room 118) prior to your departure in order to avoid the assignment of any future fees.
Read more about the NYUCard.
Front and Back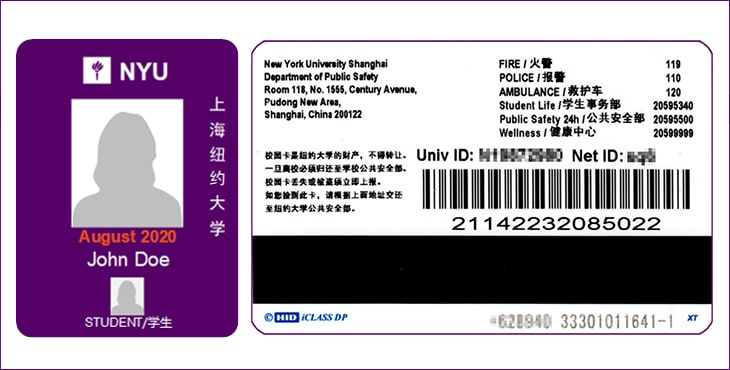 Access Privileges
Electronic access privileges are reviewed each semester, and are contingent on enrollment and status as an NYU student. If you find your privileges have been deactivated for any reason, please contact Public Safety.
Doors inside the campus could be managed by the area managers through the web-based Access Management System (VPN required, the guideline could be found here). If you need the privileges for certain areas such as labs and lounges, please contact the area manager or Public Safety.
Get Your NYUCard
Step 1: Send us your photo (online or email: shanghai.publicsafety@nyu.edu).
Step 2: Check that your NetID and NYU email accounts have been activated.
Step 3: Wait for your confirmation email and come pick up your card.
Walk-in photo service: Room 118, Academic Building
Administration departments could apply for NYUCard on behalf of new employee by the online form (the guideline could be found here).
Replace a Lost, Stolen, Damanged, or Expired Card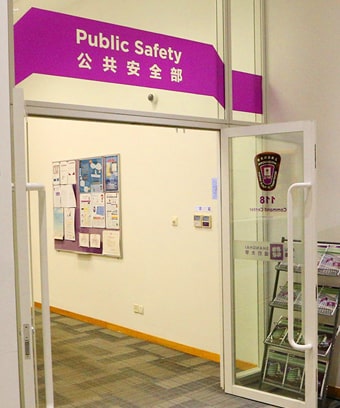 If you have lost a card or suspect that it has been stolen, please report the missing card to Public Safety by filling out this online form, submitting a replacement application over the NYU Shanghai WeChat Enterprise Account, on the online form, or by visiting the Command Center in room 118 of the Academic Building.
There is a 150 RMB fee to replace your card, which you can pay by WeChat Wallet, Alipay, or by cash to the Bursar's Office. If your card was stolen and you obtain a police report (or incident information slip) indicating that your card has been stolen and not lost, this fee can be waived. Please present the police report for a fee waiver. Fees are not charged for damaged or expired NYUCards.
After receiving your request, Public Safety will provide a replacement card in two working days, and you will receive an email notification to pick up the card.

Replace a card on WeChat

Online Form

Walk-in Service: Room 118 in Academic Building