CEL Lens is a documentary viewing and discussion series inaugurated in Spring 2021. It is now in the second season of Fall 2021. 
We hope these documentaries will provide a means for viewers to gain concrete understandings on different social issues in our world today, particularly in China. Through facilitated discussions following each screening, we aim to create opportunities for reflection and connection among the participants. 
Inquiries can be directed to CEL Coordinator Chunhao Qian at cq7@nyu.edu
Fall 2021
9/24 Still Tomorrow 摇摇晃晃的人间 
10/22 Please Remember Me 我只认识你. This screening will be hosted at Jinmei Elderly Care center, together with a tour of the center and post screening discussion.
Date TBD My Dear Beloved 梧桐树. This screening will be followed by a workshop on Chinese sign language. 
Spring 2021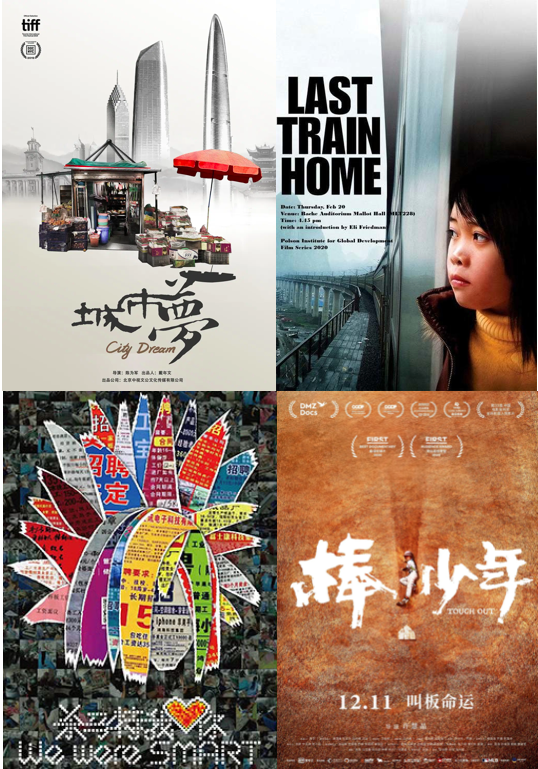 Schedule: (all films have English subtitles)
Friday, Feb. 5  归途列车 Last Train Home

Friday, Feb. 26  城市梦 City Dream

Friday, Mar. 12   杀马特我爱你 We Were Smart

Friday, Mar. 26  棒!少年 Tough Out
Last Train Home
Annually, an estimated 130 million factories workers in China migrate from their city of employment back to the village they grew up in. This documentary spotlights married couple Chen and Zhang as they make their own journey. Chen and Zhang must struggle to reconnect with their children, whom they see only once a year. When they discover that their daughter has decided to drop out of school to work at a factory herself, they begin questioning the value of their sacrifice.
(Description credit: Rotten Tomatoes)
City Dream
Weijun Chen's lively new film documents the struggles of Wang Tiancheng, an elderly and cantankerous street vendor in Wuhan, China, whose business is threatened by the development of a new retail district.
(Description Credit: Toronto International Film Festival)
We Were Smart
We Were Smart, directed by Li Yifan, is "a gripping foray into a vibrant but shunned subculture born of young migrant workers who fueled China's manufacturing boom in the mid 2000s."
(Description Credit: Radiichina.com)
Tough Out
Carrying heavy burdens from shattered families, a group of boys learn to play baseball. With struggles in the field and to find out their identity, could this be their way out in life?