Key Laboratory of Urban Design and Urban Science Holds Joint Seminar with Tokyo City University
Feb 3 2023
On January 11, the Shanghai Key Laboratory of Urban Design and Urban Science (LOUD) at NYU Shanghai hosted a joint seminar with Tokyo City University's Urban Spatial Information Science Laboratory (USIS LAB) on the topic "Planning Post-pandemic Urban Green and Blue Space: Urban science and Mobile Phone Big Data Application." Faculty and students from both labs attended the seminar and shared their research focus and ongoing projects. Other participants from the University of Tokyo, NTT Docomo, and NYU Tandon School of Engineering joined online.
LOUD and USIS LAB have been working together since 2019 on a number of projects such as the use of big data to study park visitation and the catchment area of urban parks. USIS LAB shared mobile phone data of Tokyo to facilitate the studies. Results of these researches were published on Social Science Citation Index (SSCI) journals, including Urban Forestry & Urban Greening (Seasonal variations of park visitor volume and park service area in Tokyo: A mixed-method approach combining big data and field observations) and Computers, Environment and Urban Systems (Delineating urban park catchment areas using mobile phone data: A case study of Tokyo).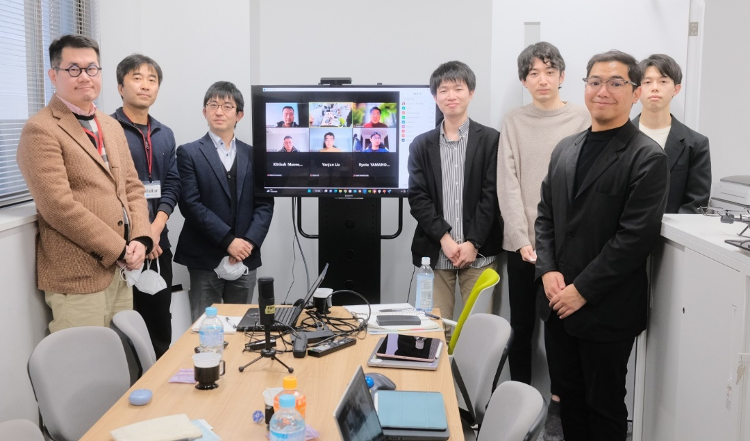 Professor Guan Chenghe (Second on the left), Professor Yuki Akiyama (Third on the left) with participants
Professor Yuki Akiyama from Tokyo City University kicked off the session by introducing their lab's research areas and strategies. "We focus on Spatial Information Science, which is a technology, science, or skill related to the acquisition, storage, processing, diagramming, publication, and dissemination of spatial information. It is researched and used in a wide variety of fields," said Akiyama. Akiyama also shared the lab's ongoing project to analyze the impact of COVID-19 on the local economy using big data on people flow.
Three student researchers from the lab, Ryota Yamanotera, Kento Tomita, and Kittisak Maneepong presented their studies on the development of automatic building extraction technology, estimated distribution of vacant houses, and the micro-population of Bangkok, respectively.
In the second session of the seminar, LOUD Director Guan Chenghe, NYU Shanghai assistant professor of Urban Science and Policy, gave an overview of the lab's faculty, research collaborations, missions, and projects. "The two labs' research efforts are complementary," said Guan. "Both labs have a lot to share. We're expecting to have many exciting collaborations in the coming days," said LOUD Director Li Ying, NYU Shanghai assistant professor of practice in Urban Studies.
Ren Xiyuan, a LOUD researcher and PhD student of NYU Tandon, presented his study on evaluating geographic and social inequity of urban parks in Shanghai through mobile phone-derived human activities, which was published in the journal of Urban Forestry & Urban Greening. Another researcher and Tandon PhD student Zhou Yichun, presented his research on the clustering of urban parks and detection of unusual visitors using a mobile phone data case study of Tokyo.
Dr. Jihoon Song from the Ojeong Research Institute of Korea University also attended the seminar and shared his research. Dr. Song has collaborated with LOUD and USIS LAB on the two Tokyo studies as well.
This seminar laid the foundation for the two labs to develop future collaborations on urban design and urban science, especially on research of urban parks using mobile phone data. "We discussed future projects related to the study of global cities in East Asia, such as Shanghai, Tokyo, and Seoul. One of our focuses will be on the planning of peri-urban parks for environmental and social justice, with the goal of supporting the planning for post-pandemic urban green and blue infrastructure," said Guan. "[The seminar] also reaffirmed one of LOUD's main goals of promoting international collaboration. And we hope to inspire PhD students to have a global perspective in their research through such international collaborations."