Applications Open for Joint MS Programs
Jun 25 2018
Two brand new Master of Science programs, jointly offered by NYU Shanghai and the NYU Stern School of Business, opened applications for the inaugural Class of 2019 on June 23.
The pioneering MS in Quantitative Finance program and MS in Data Analytics & Business Computing program are each expected to admit high-achieving young professionals and college graduates from around the world, eyeing future careers in Asian financial and big data marketplaces.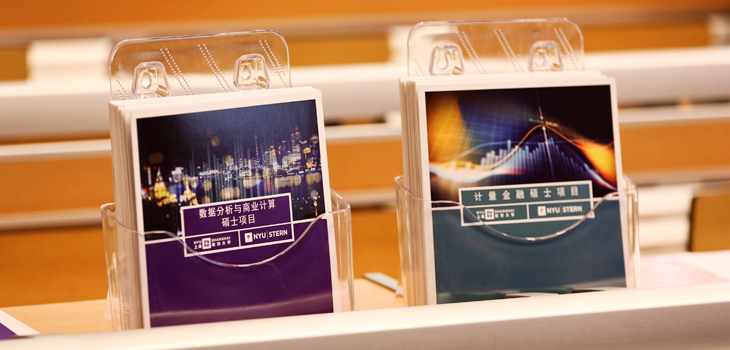 At an on-campus information session on June 23, Chancellor Yu Lizhong said that since its establishment, NYU Shanghai has been exploring potential high-quality postgraduate programs best able to respond to global economic trends and the rapid development of Shanghai, as one of a handful of cities driving the global economy.
"The future of business education lies in its marriage with cutting-edge fields such as computer sciences and data analysis," he said. "We expect our joint masters programs with NYU Stern to achieve the same level of success in practice as our undergraduate programs."
The information session also hosted Li Bo, director of technology at Alibaba Group, who, as an industry-insider, spoke of the current corporate demand for interdisciplinary professionals that can think systematically and dig into the innate value of data.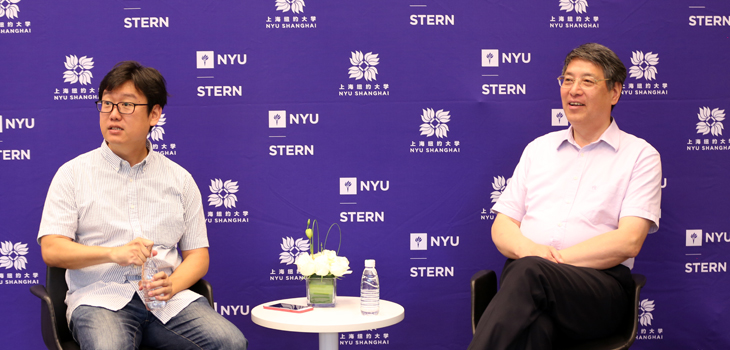 "Thanks to AlphaGo turning Artificial Intelligence (AI) into a nation-wide public topic, it now seems all enterprises in China are embracing big data and AI. This is expected to last for at least 20 years," Li said. "Today, traditional enterprises who need to digitize operations and improve efficiency based on data and algorithms, are experiencing up to 50 percent shortfall in available manpower to get the job done."
More than 50 parents and undergraduates from around China participated in Saturday's session and inquired about curriculum, tuition and career prospects, following in-depth introduction from the admission officers.
Students enrolled in the MS in Data Analytics & Business Computing will learn through an interdisciplinary curriculum in business, data science and management science to solve business challenges using data-driven approaches. Through the MS in Quantitative Finance, students will focus on the modern financial architecture and its functions, including a range of technical innovations that have given rise to Fintech.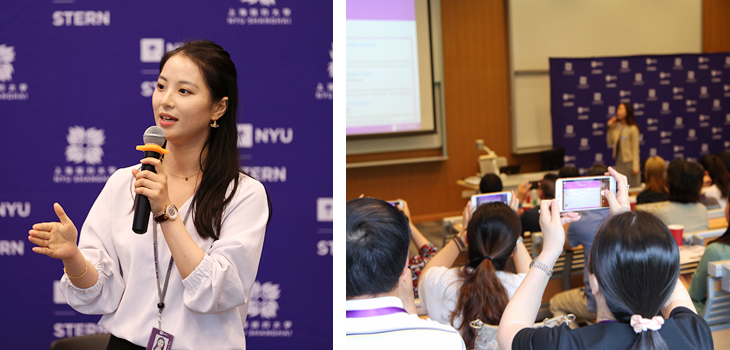 Both MS programs entail 12 months of full-time study over three semesters in two global hubs, starting with a summer semester at NYU Stern in New York City, followed by fall and spring semesters in China at NYU Shanghai. Graduates will join an NYU alumni network of more than 500,000 worldwide in over 180 countries, including more than 17,000 alumni in Asia.
Application for enrollment in 2019 is now open online, interested candidates can visit the Program Website to learn more and apply. Non-US citizens have two rounds of deadlines by which they can submit applications, either September 15, 2018 or November 15, 2018. US citizens and permanent residents should apply by the third round deadline: January 15, 2019.
The NYU Shanghai Office of Graduate and Advanced Education will also host information sessions in the upcoming months in China and selected cities in Asia; please stay tuned at: https://stern.shanghai.nyu.edu/en/admissions/events