Applying for a Visa
International students must have Chinese student visas to study in China. NYU Shanghai's Student Mobility team will do everything possible to help you get your visa, but ultimately the decision to issue a visa belongs to the Chinese government and your local consulate. It is therefore important to understand the requirements of your local consulate and bring all relevant documents when you apply for your visa. If you have any questions about your visa and immigration procedures, please contact shanghai.student-mobility@nyu.edu.
Obtaining a Passport
Incoming international students will need a passport valid for at least one year from September 20th, 2020, as well as a Chinese visa valid for entry on or after Move-In Day. Students who hold dual citizenship are advised to provide the passport for the country which they feel will provide them the most support while abroad. This is important as some countries' embassies/consular offices will only assist citizens who use that country's passport to enter China. Students need to determine in advance which passport to use to enter China because all immigration documents issued will be based on one passport and cannot be changed until you use that same passport to leave China.
How Can I Get a Student Visa?
NYU Shanghai will issue two documents that you will need to take to your local Chinese embassy/consulate to process. These two documents are:
JW202 Form - "Visa Application for Study in China" Form
NYU Shanghai Admission Letter (For Visa Purposes Only)
We will mail both documents to the address indicated on the Visa Survey that will be sent out in late May. You should receive these forms by the end of July. Please contact your local consulate to understand what you will need for your application as early as possible so that you will have adequate time if you are asked to provide additional documentation. If you need additional documentation issued by NYU Shanghai beyond the two forms listed above, please email shanghai.student-mobility@nyu.edu.
The visa processing time may vary from countries to countries. You are advised to begin your visa application as early as possible. Depending on your country of residence, you may be required to complete a physical check prior to arrival or a Physical Exam Form filled out by an approved physician. Please pay close attention to the information on your local China embassy/consulate office website.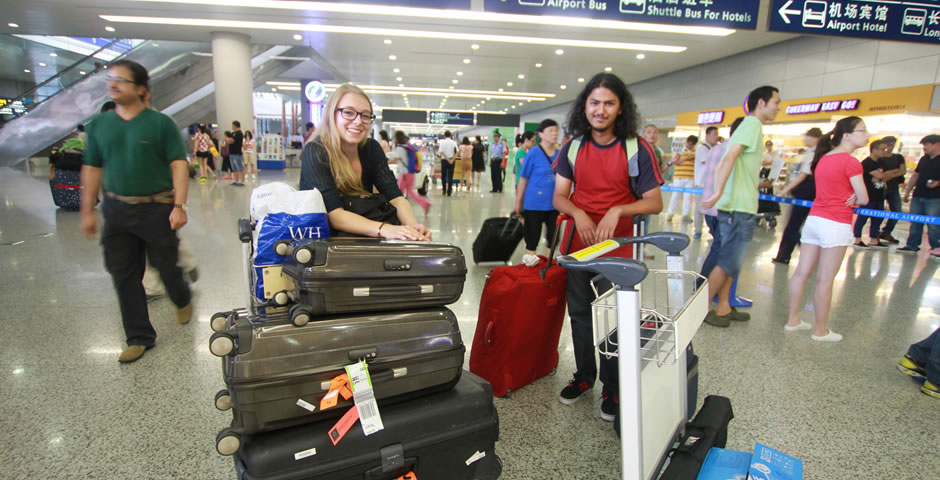 What Type of Visa Do I Need?
The Chinese government updated its visa categories to include two types of student visa.
X1 Visa: The X1 student visa is issued to those who intend to study in China for a period of more than 180 days. All degree and year-long students need to obtain an X1 Student Visa. Students with an X1 visa will also need to obtain a Residence Permit within 30 days of their arrival in China. Please see below for more information on the residence permit.
X2 Visa: The X2 student visa is issued to those who intend to study in China for a period of no more than 180 days. Students only studying in shanghai for a semester should obtain an X2 Visa.
What is a Residence Permit?
Students who enter China on an X1 student visa will need to apply for a residence permit for study within 30 days after their arrival in China. Students who enter on an X2 student visa do not need to apply for a residence permit, but may choose to do so to move freely in and out of the country—X2 visas are typically single-entry.
The Chinese residence permit functions as a multi-entry visa for multiple years (based on your duration of study).  In order to obtain your residence permit, you will need to complete a physical examination while in Shanghai. NYU Shanghai staff will help you obtain your residence permit when you arrive. The process usually takes 3 to 6 weeks and the fee for a 4 year residence permit is 1500RMB (about 250USD).
Early Entry Can Complicate Obtaining Your Residence Permit!
If you are holding an X1 visa, we recommend that you DO NOT plan to enter China more than one week before the Move in Day. Chinese law requires students to convert their X1 visas into residence permits within 30 days after the date on which they entered China. Early entry will subtract from your 30 days visa transition window. It can easily take 3-6 weeks to get a residence permit, while some application documents can only be issued after the school begins.
What if I Already Have a Valid Non-Student Chinese visa?
Due to the Chinese visa and immigration policy, students cannot use the non-student Chinese visa to enter China and study here. You are required to apply for a student visa before your arrival.
Understanding Chinese Visas
Visa Validity ("Enter Before") means that the visa is valid, or can be used for entry into China from the date of issue to the "Enter Before" date indicated on the visa (Beijing Time). If a visa has additional unused entries, the bearer may enter China before 24:00 (Beijing Time) on the visa expiration date.
"Entries" refers to the number of times the bearer is permitted to enter China during the visa's validity period. A visa becomes invalid if there are no entries left or the visa validity expires. If a visa becomes invalid, its bearer must apply for a new visa before entering China. Traveling with an invalid visa to China will result in refusal of entry.
"Duration of Each Stay" refers to the maximum number of days the visa bearer is permitted to stay in China each time, which is calculated from the date of entry into China. A foreign citizen who overstays the end date of his/her authorized stay in China without acquiring a visa extension is subject to fines (500RMB for one overstay, up to 10,000RMB for repeat offenses) and other penalties (5 to 15 days detention) for violation of the visa laws and regulations in China.