Emergencies
In the event of an emergency, call NYU Shanghai Public Safety at 021-2059-5500.
For urgent mental health needs, call the Wellness Exchange hotline, 24 hours a day, seven days a week, at +86-21-2059-9999.
Email: shanghai.health@nyu.edu
Phone:
From Shanghai: 2059-5353
From elsewhere in China: 021-2059-5353
From outside of China: 86-21-2059-5353
Location: Academic Building, Room 605
Hours of Operation: Monday-Friday 8:30 a.m.–5:30 p.m.
Immunization Requirements
New York University requires all students (graduate, undergraduate, transfer, and returning students who, to date, have not complied) who are taking six or more credits in a degree-granting institution to provide:
Certification from a healthcare provider or other acceptable evidence that you have received two MMR(麻疹,风疹,腮腺炎)vaccines
Proof of vaccination against Meningococcal Meningitis (A,C,W,Y) on or after 16th birthday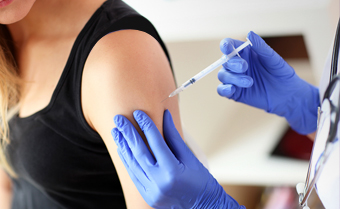 We strongly encourage all international students to follow CDC vaccine recommendations for China, as many students will travel and explore regional areas of China and or around SE Asia during their time at NYU Shanghai. It is the personal responsibility of students to prepare for these experiences well in advance.
Varicella(水痘) Chicken Pox is a highly contagious and potentially dangerous disease in young adults. If contracted, there is a mandatory period of isolation from the campus for at least 2 weeks, causing significant disruption to the academic program. We request that all students find out their Varicella immunity status and get vaccinated if necessary.
Common vaccines and the corresponding terminology in Chinese:
Tetanus: 破伤风
Polio: 脊髓灰质炎
HPV Vaccine: 子宫颈癌疫苗
Hepatitis A/B Vaccine: 甲/乙肝疫苗
Health Insurance Requirements
All NYU Shanghai students are required to have health insurance.
All International students at NYU Shanghai are required to have Geoblue International which offers global coverage for the full academic year.
More information on insurance regarding US/International students can be found here.
We highly recommend Chinese national students enroll in the PingAn - Complimentary insurance as this covers inpatient service, which supplements mandatory Chinese Citizen Insurance.
All Chinese National students traveling outside China on university-related programs are required to purchase Geoblue Study Abroad Insurance if they wish to participate. This includes conferences, summer course, internships as well as study abroad programs.