The NYU Shanghai Academic Building
NYU Shanghai is located at 1555 Century Avenue, in Lujiazui, Shanghai's thriving financial district.  Some of the world's most iconic buildings - the Oriental Pearl Tower, the Shanghai Tower, and the Shanghai World Financial Center - are down the road and the campus is within walking distance of popular restaurants, shopping malls, stadiums and playing fields. 
Custom-built in 2012, 1555 Century Avenue serves as NYU Shanghai's main campus and thriving intellectual center, and is easily accessible by subway, bus, car, and bicycle.  The 15-story Academic Building includes large lecture halls and intimate seminar rooms, a spacious cafeteria and hip café, a 300-seat auditorium and state-of-the-art science laboratories, faculty and administrative offices, and an expansive library housing an extensive physical and electronic collection that is networked to NYU's global library.  Wireless IT services and a robust IT infrastructure ensure that the building and, by extension, the students and faculty, remain fully connected to the NYU global network. 
Academic Building Address
1555 Century Ave, Pudong New District, Shanghai, China 200122
Directions 
Metro: Century Avenue Station, Metro Lines 2/4/6/9 Exit 6
Bus: Century Avenue at Pudian Road, Bus Lines 169/987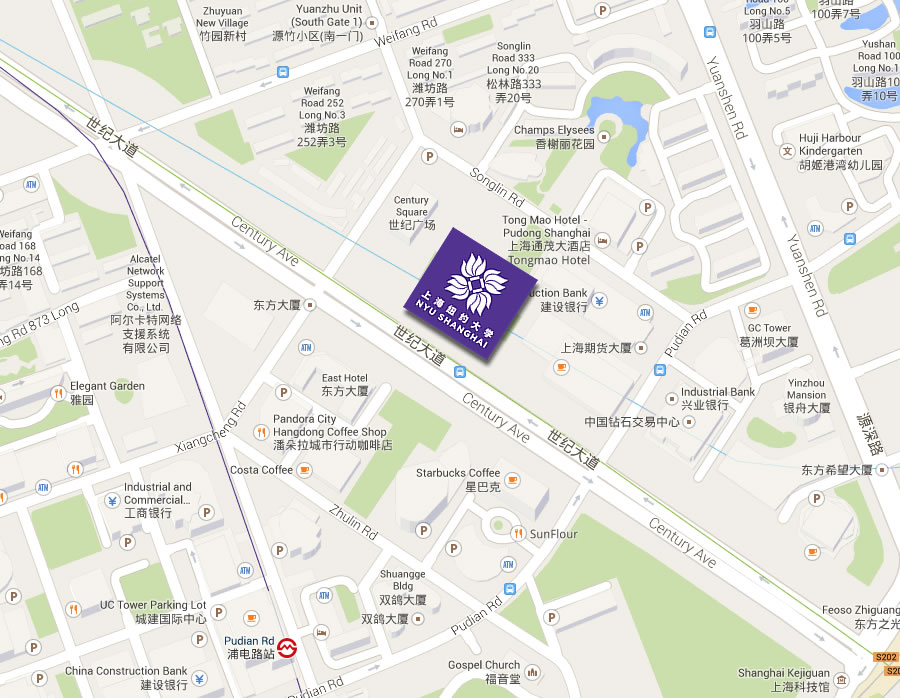 The NYU Shanghai Residence Halls
The NYU Shanghai Residence Halls, located in Shanghai's Jinqiao neighborhood, are a short bus ride from the Academic Building. The Residence Halls were built to NYU Shanghai specifications in 2014, are fully-networked, and offer students a range of housing configurations.  NYU Shanghai shuttle buses run regularly between the Academic Building and the Residence Halls.
Residence Hall Address
Green Center Towers 
Zhangyang Road, Lane 3680(张杨路3680弄)
Pudong New Area, Shanghai 200135, China
Zhongbei Campus
The NYU-ECNU joint research institutes at NYU Shanghai are located in the Geography Building at 3663 Zhongshan Road North, East China Normal University. The institutes include the NYU-ECNU Institute of Brain and Cognitive Science at NYU Shanghai, the NYU-ECNU Center for Computational Chemistry at NYU Shanghai, the NYU-ECNU Institute of Mathematical Sciences at NYU Shanghai, the NYU-ECNU Institute for Social Development at NYU Shanghai and the NYU-ECNU Institute of Physics at NYU Shanghai.

Zhongbei Campus Address
Geography Building, 3663 North Zhongshan Road, Shanghai, China
Directions 
Metro: Jinshajiang Road Station, Metro Lines 3/4/13 Exit 5
Bus: East China Normal University, Bus Lines 67/69/224/309/754/765/829/856/909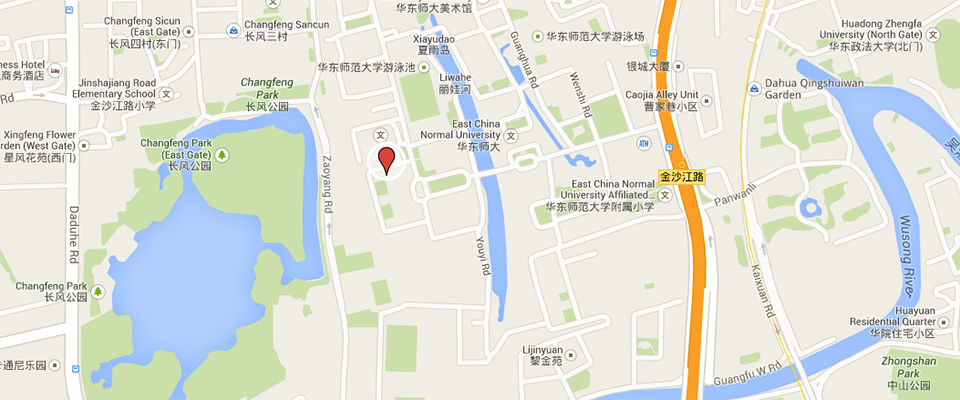 Take a Virtual Tour! 
Explore the Pudong campus virtually in our 360-degree tour, stopping off at the state-of-the-art auditorium, library, science labs and more. In this tour, you can also visit Jinqiao residence hall and see where students live, or step off campus and see some of the sites of the city that are on our doorstep.